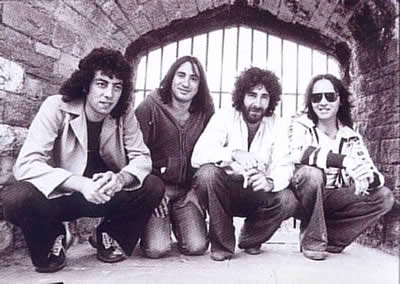 Space were an indie rock band from Liverpool, England, who came to prominence in the mid-1990s with hit singles such as "Female of the Species", "Neighbourhood" and "Avenging Angels". The basis of their sound has inspirations from late 1960s-early 1970s rock groups mixed with black humoured lyrics and peculiar vocal/music samples.
Scott (then bass player), Murphy and Parle formed Space in 1993 and aimed for a Who-influenced sound. After Griffiths - an old friend and former member of Scott's earliest group The Australians - joined them on keyboards a year later, they secured a record deal with Gut Records who released their first single proper "Neighbourhood"' in 1996. The subsequent release of their next single, "Female of the Species", provided much popular acclaim. This song was also the theme song to the UK television series Cold Feet. Their debut album Spiders, released in September 1996, enjoyed moderate success and went platinum in the UK. "Female of the Species" also gained moderate airplay on college radio and MTV in America as well. The line-up increased with the addition of bassist/multi-instrumentalist Yorkie - who started working with the band years before their success with Spiders - in late 1996, so that Scott could concentrate more on vocals and guitar. A tour of the U.S. followed in mid-1997 which was less successful than many had hoped. The death of Yorkie's mother Gladys Palmer, a local Liverpool singer, devastated the band, and Parle left the group straight after the band completed work on their second album. However, Caffrey was quickly chosen to take over from Parle. The new record, entitled Tin Planet, was a more mature, focused release than Spiders and was issued in spring 1998, hitting number three in the album charts. Like its predecessor, it became a success, but it did upset some fans due to its influences from more softer, pop-friendly songs and the lack of the much more aggressive tracks found on Spiders. In late 1998, for a Honda advertisement, Space recorded a version of the Animals' "We've Gotta Get Out of This Place", which was featured on The Bad Days EP. The band also recorded a track together with singer Tom Jones for his album Reload, released in 1999. In 2001, Space parted ways with Gut following certain issues with the label, including the constant postponing of their third album Love You More than Football (which, to this day, is still unreleased, due to it being scrapped for good). Things went from bad to worse, though, when Murphy decided to quit the band for good in early 2002. Feeling that they had reached their peak, Space decided to retreat from the public eye and release their music to their fans via their website. These recordings were known as Music for Aliens. After a three year break from public attention, Space returned in 2004 to release Suburban Rock 'N' Roll, their first proper release of new material since Tin Planet. It failed to earn critical and commercial recognition but managed to please their trusted fanbase thanks to its "return to form"-like sound. The lukewarm reception of their latest releases and the problems with getting a proper record contract made it financially impossible to carry on, so in 2005, Space announced that they have decided to go their separate ways. Though now apart, Space are still working in the music industry: Scott and Caffrey have formed a punk band called the Drellas, Griffiths is making R'n'B music under the name Subway Showdown, and Yorkie is producing for Shack.
Describing Space's musical style is never easy. However, someone tried to interpret them as: "Black Grape gone flamenco and sung by a man who can't decide between cartoon Mexican, Ray Davies and Cypress Hill". Scott agreed by saying: "We're proud of the fact you can't put a finger on our sound. My songs are different because my ideas don't necessarily come from listening to music. It's all, Sinatra, Earthling and Tricky on my stereo, but I find myself more inspired by Tarantino movies and Looney Tunes cartoons. Even films like "Singin' in the Rain"!"