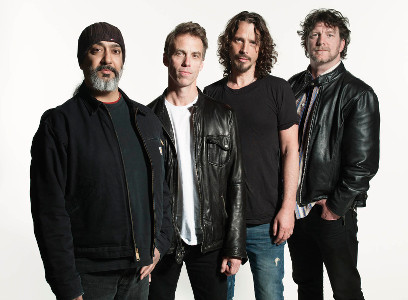 Soundgarden is an American rock band formed in Seattle, Washington, in 1984 by singer and rhythm guitarist Chris Cornell, lead guitarist Kim Thayil, and bassist Hiro Yamamoto. Matt Cameron became the band's full-time drummer in 1986, while bassist Ben Shepherd became a permanent replacement for Yamamoto in 1990.

Soundgarden was one of the seminal bands in the creation of grunge, a style of alternative rock that developed in Seattle, and was one of a number of grunge bands signed to the record label Sub Pop. Soundgarden was the first grunge band to sign to a major label (A&M Records, in 1988), though the band did not achieve commercial success until they popularized the genre in the early 1990s with Seattle contemporaries Pearl Jam, Nirvana, and Alice in Chains.

Soundgarden achieved its biggest success with the 1994 album Superunknown, which debuted at number one on the Billboard charts and yielded the Grammy Award-winning singles "Black Hole Sun" and "Spoonman". In 1997, the band broke up due to internal strife over its creative direction. After several years working on projects and other bands, Soundgarden reunited in 2010 and their sixth studio album, King Animal, was released two years later.

As of 2012, Soundgarden had sold more than 10.5 million records in the United States, and an estimated 22.5 million worldwide. VH1 ranked Soundgarden at number 14 in their special 100 Greatest Artists of Hard Rock.

Soundgarden was one of the early bands of the 1980s Seattle music scene and is regarded as being one of the originators of the genre later known as grunge. The development of the Seattle independent record label Sub Pop is tied closely to Soundgarden, since Sub Pop co-founder Jonathan Poneman funded Soundgarden's early releases, and the band's success led to the expansion of Sub Pop as a serious record label. Nirvana frontman Kurt Cobain was a fan of Soundgarden's early music, and reportedly Soundgarden's involvement with Sub Pop influenced Cobain to sign Nirvana with the label. Soundgarden was the first grunge band to sign to a major label when the band joined the roster of A&M Records in 1989. Soundgarden, however, did not achieve initial success, and only with successive album releases did the band meet with increased sales and wider attention. Bassist Ben Shepherd has not been receptive to the grunge label, saying in a 2013 interview "That's just marketing. It's called rock and roll, or it's called punk rock or whatever. We never were Grunge, we were just a band from Seattle." They were ranked No. 14 on VH1's 100 Greatest Artists of Hard Rock.

Regarding Soundgarden's legacy, in a 2007 interview Cornell said, I think, and this is now with some distance in listening to the records, but on the outside looking in with all earnestness I think Soundgarden made the best records out of that scene. I think we were the most daring and experimental and genre pushing really and I'm really proud of it. And I guess that's why I have trepidation about the idea of reforming. I don't know what it would mean. I guess I just have this image of who we were and I had probably a lot of anxiety during the period of being Soundgarden, as we all did, that it was a responsibility and it was an important band of music and we didn't want to mess it up and we managed to not, which I felt is a great achievement.

Soundgarden has been praised for its technical musical ability and the expansion of its sound as the band's career progressed. "Heavy yet ethereal, powerful yet always-in-control, Soundgarden's music was a study in contrasts," said Henry Wilson of Hit Parader. Wilson proclaimed the band's music as "a brilliant display of technical proficiency tempered by heart-felt emotion." Soundgarden is one of the bands credited with the development of the genre of alternative metal, with Stephen Thomas Erlewine of AllMusic stating that "Soundgarden made a place for heavy metal in alternative rock." Ben Ratliff of Rolling Stone defined Soundgarden as the "standard-bearers of stoner rock" during the 1990s. The band inspired and influenced a number of bands, such as Between the Buried and Me and The Dillinger Escape Plan.