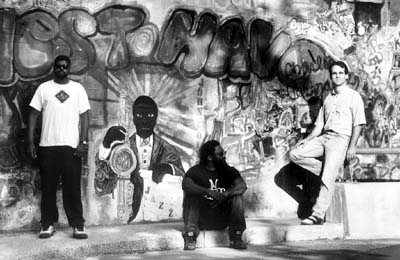 No longer a working trio, the band is now the writing and recording duo of Houston Ross and Michael Sokolowski. The musical influences of everything from mamba to easy listening to gospel can be heard in SOKO's melodic/rhythmic combinations. SOKO is the former band of LeRoi Moore.
Soko today: Michael Sokolowski (piano, synths, violin) Houston Ross (bass) John Gilmore (drums).
We are devastated by today's passing of our brother and mentor, LeRoi Moore. Not only was he one of the kindest, most generous, most deeply intelligent and hilarious people one could ever hope to meet, but he was one of the greatest saxophonists ever to walk this rock. He'd scoff at the notion, but those who know, know. We are blessed to have shared air with him. He was also our biggest supporter - "thanks" doesn't remotely do it justice.
Soko's current project: Re-recording debut album, In November Sunlight. Planned release in 2008 -- check here for updates. We're thrilled to have Nir Z drumming on this project. We're also gratified to have the wonderful cellist, David Darling, joining us again in the studio. Look for most or all of the guests from the original version to reprise their roles.

Soko: Two is in stores. No longer a [Two] working trio, the band is now the writing & recording duo of Houston Ross and Michael Sokolowski. (On Two, an array of guest musicians contribute to the mixes as needed.) Tracks were mixed by Rob Evans and the disc was mastered by Bob Katz of Digital Domain.

Breezeway Records is making "Plant the Sky" and "Rain" available for free download (or streaming).

The album is available at most reputable online retailers and download sites. An online resource that particularly supports independently released music is CDBaby.com. You'll also find it at iTunes and from the other major online music delivery sources.

Local availability of Soko CDs: Record stores may order copies of Soko albums from the following distributors: Alliance Entertainment Corp, Baker & Taylor, Inc, Super D, and Arrow Distributing Company.