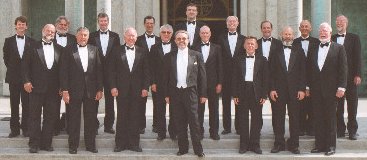 The Slavyanka Chorus regularly presents a cappella concerts in the San Francisco Bay Area and California. The repertoire is drawn mostly from Russian sources: Orthodox liturgical, Russian and other slavic folk and composed music. It includes compositions by Mussorgsky, Tchaikovsky, Rachmaninov, and a host of less well-known purveyors of the Slavic soul in song.
2000-01 Concert Schedule Slavyanka is the name that the early Russian settlers in California gave to the river that is today known as the Russian River. The Slavyanka Chorus was formed in 1979 by several former members of the Yale Russian Chorus. Membership has varied from twenty to thirty men, all with other primary occupations ranging from business and the trades to law, science and medicine.
The chorus toured the former Soviet Union in 1986, 1989 and 1999, where it performed for historically its largest and most appreciative audiences.
In May of 2004, Slavyanka celebrated its 25th year. Male alumni and other friends came from all over the US.
Since July, 1997, Slavyanka's Music Director has been Gregory A. Smirnov, formerly music director in Pskov, Russia, before migrating to the US, in 1992. The founding director of Slavyanka was Paul Andrews, who led the group until 1991. Alexei Shipovalnikov directed the Chorus for the next six years.