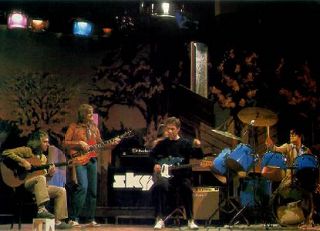 Sky was a UK-based instrumental group that specialised in fusing a variety of musical styles including light rock, classical and jazz. The band was formed in 1978 when classical guitarist John Williams decided to team up with Herbie Flowers, Francis Monkman, Tristan Fry and Kevin Peek. The rock-classical segment had been sketched out a few years earlier by the orchestral band Esperanto. After a protracted search for a record company they eventually signed with the small European label Ariola Records. Their self-titled debut album was highly successful in Britain and Australia. Their follow up double album, Sky 2, was even more so, being the tenth highest selling in Britain for all of 1980.
In 1980 British producer Martin Lewis conceived of presenting Sky in a concert performance at London's Westminster Abbey - the 900-year old historic church in the centre of London. The concert eventually took place in February 1981. It was the first-ever rock concert held at the Abbey and it was videotaped for a BBC TV special - subsequently released on home video. The concert was a benefit for the human rights organization Amnesty International and commemorated the organization's 20th anniversary. The landmark event resulted in Sky receiving considerable positive media coverage.
The departure of Francis Monkman led to his replacement by Steve Gray who took the band to a more jazz influenced sound. Subsequent albums saw a gradual dwindling in quality and success. After their sixth album, Cadmium, John Williams also left the band. Sky were to record only two more albums, The Great Balloon Race and Mozart. The latter was produced with the Academy of St Martin in the Fields and was their most successful album in the United States.