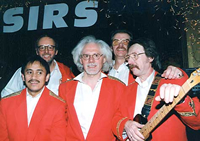 The Sirs, die erste dokumentierte Beat-Gruppe Vorarlbergs im Jahre 1966/67. Die Anfänge der Sirs im Löfflersaal Wien 1140 Penzingerstraße. Später aufgetreten in ganz Eurpa - in Zürich, Aachen, Rotterdam, Berlin, Wien etc.

Den Sirs wurde der goldener MAXI im Seversaal Wien verleiht.

Nach 30 Jahren wieder in der Tenne. 1200 Gäste kamen in die Tenne zur CD- Präsentation der Sirs.

The Sirs bedankt sich bei den Hausherren Herrn Fischer und Schlader!

Peter Zakovsky - Guitar, Vocals
Manfred Schmied - Bass, Vocals
Walter Madl - Lead-Guitar
Robert Zawiacic - Percussion, Drums
Peter Güttenberger - Keyboards
Michael Manak - Vocals, Guitar