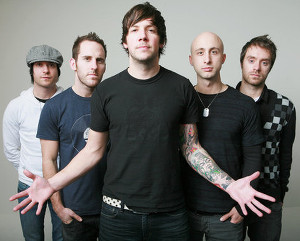 Simple Plan is a Canadian rock band from Montréal, Québec, that formed in 1999 consisting of lead vocalist Pierre Bouvier, drummer Chuck Comeau, lead guitarist Jeff Stinco, rhythm guitarist and backing vocalist Sébastien Lefebvre, and bassist and backing vocalist David Desrosiers. They have released four studio albums: No Pads, No Helmets...Just Balls (2002), Still Not Getting Any... (2004), Simple Plan (2008), Get Your Heart On! (2011), and a fifth album to be released in 2015; There is also a LP intitulated Get Your Heart On - The Second Coming! (2013), as well as two widely marketed live albums: Live in Japan 2002 (2003) and MTV Hard Rock Live (2005).

They performed at the Vans Warped Tour every year from 1999 to 2005, in 2011, and in 2013. The band also performed at the 2010 Winter Olympics closing ceremony, along with The X Factor Australia. In December 2012, they performed at Mood Indigo, the college festival of IIT Bombay in Mumbai, India. In 2004, the band participated in the movie New York Minute, starring the Olsen twins, Mary-Kate and Ashley.

Simple Plan is strongly connected to Scooby-Doo, having performed the theme song to What's New, Scooby-Doo? (written by Rich Dickerson), and appeared as themselves in the episode "Simple Plan and the Invisible Madman". Two of their songs appeared in chase scenes: "I'd Do Anything" in the episode "It's Mean, It's Green, It's the Mystery Machine", and "You Don't Mean Anything" in "Simple Plan and the Invisible Madman". Also, they have contributed to the Raja Gosnell-directed theatrical films (including an original song, "Don't Wanna Think About You", for Scooby-Doo 2: Monsters Unleashed).

In a 2013 interview with Musichel, lead vocalist Pierre Bouvier announced that the band was writing their next studio album and that they were working on a DVD. In November, the band announced that their new EP is titled Get Your Heart On - The Second Coming! which was released on 3 December 2013. Consequently, Simple Plan uploaded their DVD to the official Simple Plan YouTube channel, in high quality for free as a gift to the fans.

In March 2014, the band members started recording the first demos for the album, it was announced through 3OH!3 member Sean Foreman's Instagram that 3OH!3 are working with Simple Plan on their next album. This information was later confirmed by Comeau; they estimate to release the album on the second half of 2015, plus they discussed the band's future projects. On 30 July 2014, the band formally stated that they were writing music for their next album.

In December 2014, Simple Plan started to pick songs for their new album.

Simple Plan entered the recording studio in LA on 1 March 2015 with producer Howard Benson. The recording is expected to take 3 months.