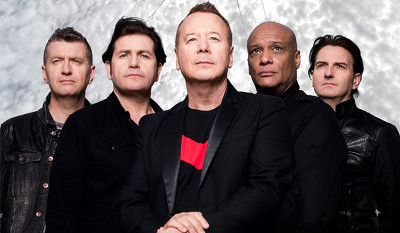 Simple Minds are a Scottish rock band formed in 1977. They achieved commercial success in the early 1980s and, despite various personnel changes, continue to record and tour. The band scored a string of hit singles, and are best known internationally for their 1985 hit "Don't You (Forget About Me)" (UK #7, US #1, CAN #1), from the soundtrack of the John Hughes film The Breakfast Club. Their other more prominent hits include "Alive and Kicking" (UK #7, US #3, CAN #3) and "Belfast Child" (UK #1, IRE #1, NLD #1). In 1986, the band was nominated for the Brit Award for Best British Group. The core of the band is the two remaining founding members – Jim Kerr (vocals, songwriting) and Charlie Burchill (guitars, keyboards after 1990, other instruments, songwriting). The other current band members are Andy Gillespie (keyboards), drummer Mel Gaynor (who first joined the band in 1982) and Ged Grimes (bass guitar). Former members include bass guitarist Derek Forbes, drummer Brian McGee, and keyboardist Mick MacNeil.

In January 1978, Simple Minds recruited Duncan Barnwell as a second guitarist (allowing for an optional two-guitar line-up while also enabling Burchill to play violin). Meanwhile, Kerr had abandoned keyboards to concentrate entirely on vocals. In March, Kerr, Burchill, Donald, Barnwell and McGee were joined by the Barra-born keyboard player Mick MacNeil. The band rapidly established a reputation as an exciting live act (usually performing in full makeup) and gained a management deal with Bruce Findlay, owner of the Bruce's Records chain of record shops. Findlay also owned Zoom Records (a subsidiary of the Arista Records label), and used his position to get Simple Minds signed to Arista. By early 1980, Findlay became the band's full-time manager via his Schoolhouse Management company.

McGee's initial replacement as Simple Minds' drummer was Kenny Hyslop (ex-Skids, Slik, Zones), who joined the band in October 1981 in time to play the first leg of the Sons & Fascination tour. His interest in New York music (including funk, hip-hop and dance) played an immediate part in the band's musical development. He stayed long enough to drum on the band's next single, the disco-friendly "Promised You a Miracle" (based on a funk riff from one of the cassettes he played on the band's tour bus) which hit the UK Top 20 and the Australian Top 10. Hyslop "didn't fit in" with the band or their management (a situation further strained by his apparent suspicion of record companies) and in February 1982 he left the band after five months.

Hyslop was replaced by the Kilmarnock-born percussionist Mike Ogletree (the former drummer for Café Jacques). Ogletree joined Simple Minds for rehearsals in a large converted barn in Perthshire, where he wrote and played the drum parts for the songs that were to become New Gold Dream (81–82–83–84). Ogletree also performed with the band on TV and the second leg of the 'Sons and Fascination Tour'.

The band moved to Townhouse Studios for recording sessions with producer Peter Walsh, who introduced them to a London-born drummer called Mel Gaynor, a 22-year-old session musician with plenty of experience (including a stint drumming for The Nolans). Working closely with Ogletree in order to capture and maintain the beats from the Perthshire sessions, he played drums on the majority of the record (although Ogletree played drums on three tracks and is credited for percussion across the entire album).

The next record, Sparkle in the Rain, was produced by Steve Lillywhite and released in February 1984. It gave rise to successful singles like "Waterfront" (which hit No. 1 in a few European countries) and "Speed Your Love to Me" and "Up on the Catwalk". Sparkle in the Rain topped the charts in the UK and hit the Top 20 in several other countries (including Canada, where it reached No. 13).

In 1984, Jim Kerr married Chrissie Hynde from the Pretenders (who renamed herself Christine Kerr). Simple Minds did a North American tour where they played as headliners supported by China Crisis during the Canadian leg and in support of the Pretenders in the US while Hynde was pregnant with Kerr's daughter. The marriage lasted until 1990.

Despite the band's new-found popularity in the UK and Europe, Simple Minds remained essentially unknown in the US. The band's UK releases on Arista were not picked up by Arista USA who had 'right of first refusal' for their releases. The 1985 film The Breakfast Club broke Simple Minds into the US market, when the band achieved their only No. 1 U.S. pop hit in April 1985 with the film's closing track, "Don't You (Forget About Me)". The song was written by Keith Forsey and Steve Schiff; Forsey offered the song to Billy Idol and Bryan Ferry before Simple Minds agreed to record it. The song soon became a chart-topper in many other countries around the world.

At around this point, the camaraderie that had fuelled Simple Minds began to unravel, and over the next ten years the band's line-up underwent frequent changes. Jim Kerr subsequently recalled "We were knackered. We were desensitized. The band started to fracture. We were lads who had grown up together, we were meant to grow together, politically, spiritually and artistically. But we were getting tired with each other. There was an element of the chore creeping in. We were coasting and this whole other thing was a challenge."

The first casualty was bassist Derek Forbes, who was beginning to squabble with Kerr. Forbes began failing to turn up for rehearsals, and was dismissed. Forbes remained in touch with the band (and soon reunited with another former Simple Minds bandmate, drummer Brian McGee, in Propaganda). Forbes was replaced by former Brand X bass player John Giblin (who owned the band's rehearsal space and was a renowned sessions musician who had worked with Peter Gabriel and Kate Bush). Giblin made his debut with Simple Minds at Live Aid in Philadelphia, where the band performed "Don't You (Forget About Me)", a new track called "Ghostdancing" and "Promised You a Miracle". Simple Minds were the first band to be approached to play the Philadelphia leg of Live Aid.

During 1985, Simple Minds were in the studio with former Tom Petty/Stevie Nicks producer Jimmy Iovine. In November, Once Upon a Time was released; former Chic singer Robin Clark, who performed call-and-response vocals with Kerr throughout the album (effectively becoming a second lead singer), and was heavily featured in Simple Minds music videos of the time. The record reached No. 1 in the UK and No. 10 in the US, despite the fact that their major-league breakthrough single "Don't You (Forget About Me)" was not included.

Once Upon a Time went on to generate four worldwide hit singles: "Alive & Kicking", "Sanctify Yourself", "Ghostdancing" and "All the Things She Said", the last of which featured a music video directed by Zbigniew Rybczyński that used techniques developed in music videos for bands such as Pet Shop Boys and Art of Noise. The band also toured, with both Robin Clark and percussionist Sue Hadjopoulos added to the live line-up.

Because of Simple Minds' powerful stage presence and lyrics that trafficked in Christian symbolism, the band was criticised by some in the music press as a lesser version of U2, despite the fact that both bands were now heading in different musical directions. The two groups were well-acquainted with one another, and Bono joined Simple Minds on-stage at the Barrowlands in Glasgow in 1985 for a live version of "New Gold Dream". Bono also appeared on stage at Simple Minds Croke Park concert and sang "Sun City" during the "Love Song" medley. Derek Forbes also appeared on stage at the Croke Park concert and performed on several songs during the encore. To document their worldwide Once Upon a Time Tour, Simple Minds released the double-live set Live in the City of Light in 1987, which was recorded primarily over two nights in Paris in 1986.

By 1988, the band had built their own recording premises—the Bonnie Wee Studio—in Scotland. Following the lengthy period of touring to support Once Upon a Time, Simple Minds began new writing sessions. Initially the band began work on an instrumental project called Aurora Borealis (mostly written by Burchill and MacNeil). This project was then supplanted by an increase in the band's political activism, something which they had begun to stress in recent years (by giving all of the income from the "Ghostdancing" single to Amnesty International, and playing cover versions of Little Steven's "(Ain't Gonna Play) Sun City" on tour), inspired by Peter Gabriel with whom they had toured in the early 1980s.

The original members of Simple Minds worked together for the first time in 27 years when they entered a recording studio in June 2008.

A new record label, W14/Universal label, purchased the Sanctuary label in early 2009. Former Sanctuary Records A&R head John Williams (who had signed the band to Sanctuary) kept his position with the new label, and exercised the option to pick up the remaining Simple Minds albums owed as part of the previous deal.

Reverting to the Burchill/Kerr/Gaynor/Duffy line-up, Simple Minds released on 25 May 2009 a new studio album entitled Graffiti Soul. Jim Kerr suggested that Simple Minds had enough material from the Graffiti Soul recording sessions for two albums, one to be released at the start of 2009 and the second following within a year.

In early April 2009, Graffiti Soul's first single, "Rockets", was made available on the Internet. On 31 May 2009, the album entered the UK Album chart at No. 10, Simple Minds' first album in 14 years to enter the UK Top 10. The album also entered European Top 100 Album chart at No. 9.