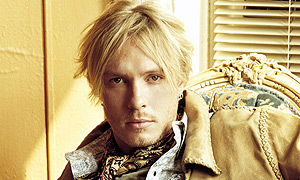 Kenny Wayne Shepherd (born Kenny Wayne Brobst, Jr, on June 12, 1977, Shreveport, Louisiana) is an American blues guitarist.
Shepherd attended Caddo Magnet High School in Shreveport. Self-taught, he began playing at age 7, learning Muddy Waters licks from his father's record collection. At the age of 13, he was invited onstage by the New Orleans bluesman Bryan Lee. After proving his abilities, he decided on music as a career.
Shepherd married actor Mel Gibson's only daughter, Hannah, on 16 September 2006. Gibson gave birth to their first child, whose name hasn't been told, sometime in 2007. His debut album, Ledbetter Heights, recorded when Shepherd was aged 17, spent 20 weeks topping Billboard's blues chart, and the magazine Guitar World voted him #3 after B. B. King and Eric Clapton. Ledbetter Heights was an immediate hit, selling over 500,000 by early 1996. Most blues records never achieve that level of commercial success, much less ones released by artists who are still in their teens.
Shepherd made a trip of ten days in the U.S. to meet and play with his idols (B. B. King, Clarence "Gatemouth" Brown, Hubert Sumlin, Pinetop Perkins, Henry Townsend, Honeyboy Edwards, Cootie Stark, Neal Pattman, Etta Baker, Jerry "Boogie" McCain, Buddy Flett, Bryan Lee, John Dee Holeman, The Howlin' Wolf Band and The Muddy Waters Band). Shepherd and Bryan Lee appeared as the musical guest on The Tonight Show with Jay Leno on 14 February 2007. On 24 July 2007, he opened for Lynyrd Skynyrd at the Orange County Fair.