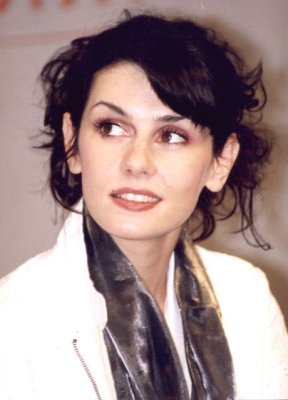 Emma Shapplin was born Crystèle Joliton on 19 May 1974. Growing up in a suburb south of Paris, with her father (a policeman), her mother (a secretary) and two elder brothers, Crystéle was something of a tomboy in her early years. Indeed, the young Crystèle Joliton preferred a game of football or a spot of tree-climbing to any traditional female hobbies, and she showed no interest whatsoever in music or singing.
However, Crystèle life would change dramatically at the age of 14 when one of her friends introduced her to a local singing teacher. This 70-year-old teacher, a former singer herself, began giving lessons to Crystèle. The young teenager, who had never displayed any particular aptitude for study - schoolwork bored Marie-Ange to death! -suddenly developed a veritable passion for music. Indeed Crystéle spent all her free time practicing her scales and training her voice. And, under the careful supervision of her singing teacher, the talented young teenager soon began to reveal an exceptional soprano voice.
Despite making excellent progress with her teacher, Crystéle received little encouragement from her family. On the contrary, after she had been taking singing lessons for over a year, her parents refused to let her continue her training. They also banned her from attending school choir practice and began to push her towards what they considered to be a more 'serious' career. This proved to be an extremely distressing period for Crystèle. Increasingly, the young teenager resisted her parents' desire to transform her into a secretary, and clung to her ambition of launching a career as a professional singer. Secretly, Crystele still harbored dreams of performing the "Queen of The Night" aria from Mozart's opera "The Magic Flute".
In the end Crystéle had to settle for something a little less grand. A local hard rock group, North Wind, offered to take her on as their lead singer, and Crystéle immediately took up the offer. Over the next three years, the young singer would abandon her soprano scales and work on perfecting a deep, gravely voice better suited to North Wind's hard rock lyrics. Meanwhile, Crystéle gave in to her parents' wishes and began studying for her secretarial 'baccalauréat'. She failed her secretarial exams at the age of 18, but this failure did not appear to bother Crystéle at all. The young teenager's sights were set on totally different things. Spente le stelle" and "Cuor Senza Sangue", the first single releases from Emma Shapplin's album, soon earned the young French singer an enthusiastic following of fans. Following the success of the singles, "Carmine Meo" rocketed to the top of the French album charts, selling 100,000 copies in just three months (thereby earning Emma Shapplin her first gold disc!) This phenomenal success was soon echoed on the international market - indeed, foreign sales of "Carmine Meo" quickly went on to rival those back home.
Given the success of European 'classical variété' acts such as Andréa Bocelli and André Rieu, it came as no surprise to anyone when Emma Shapplin's album became an overnight hit on the international music scene. Distributed in 26 countries on all five continents, "Carmine Meo" soared to the top of the charts worldwide - occasionally even overtaking Céline Dion and Madonna's albums in the charts! Emma Shapplin soon went on to become a household name in Greece, Lebanon, Canada , Mexico and even as far afield as New Zealand.
What's more, the young French star achieved her overnight fame without performing one single concert. Emma did appear on stage at Julien Clerc's recent concert in Brussels to sing a duet, and repeated the experience when Julien Clerc performed in Paris at Bercy stadium (in front of 16,000 people!) in April 98. But for the time being no individual tour dates are scheduled into Emma Shapplin's diary. Maybe, given her extraordinary popularity worldwide, Ms. Shapplin feels the concept of touring is completely unnecessary.
Most of the writing on Carmine Meo had been done by Capdvielle, for her second album Emma was determined to write her own material. Signed to a new label, Ark 21, she began to look around for a new musical collaborator. Miles Copeland, head of her new label, recommended Graeme Revell, a composer whose work had appeared on the soundtrack to the Red Planet movie. It proved to be a perfect fit. "In his music I found an echo of what I was looking for," Emma says.
The new album was created lovingly and meticulously over a period time so that not a single note or word is out of place. Full of poetic insight and striking imagery, all of the lyrics were written by Emma and she contributed substantially to the music and arrangements; each song contains a different character created from her vivid imagination to express a different emotion or idea. Richly evocative, there's almost a visual quality to Emma's sound pictures. "I like to think of it as music you can look at," she says. Indeed, she conceived ETTERNA not merely as an album of music but as part of an audio-visual experience in which the artwork, videos (which she scripts herself), her own body and costumes and even the lighting effects in her stage performances as well as the conception of the photographs are an integral part.
She also took the surprising decision to write and sing the lyrics in Italian, a language that she doesn't choose to speak. Even more remarkably, she opted not for the language as it is spoken today, but for the antique and poetic 14th century Italian and baroque of writers such as Dante and Boccaccio. "I wanted something that would have a timeless, dream-like quality," she explains. "To sing in an day-to-day language would have broken the spell. I wanted the record to remain like a dream."
If it is a dream, then it is one that is now coming true for Emma Shapplin. ETTERNA is an album blessed with a rare and intimately perfumed beauty that looks destined to exceed even the success of Carmine Meo. If her first album was characterized by the elements of earth and fire, she says, then ETTERNA is more air and water. Its textures are soft and gentle, delicate and even fragile. Yet at the same time dark and luxurious, like a heavy scent or crushed velvet. "Everything is a question of balance," she says.
ETTERNA is an album of perfect balance and natural poise. A special album from a very special place. The album of Emma Shapplin's dreams.