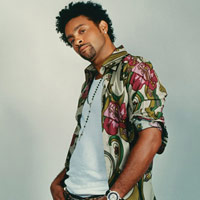 Shaggy (born Orville Richard Burrell, October 22, 1968, Kingston, Jamaica) is a Jamaican American reggae singer who takes his nickname from Scooby-Doo's companion, a nickname given to him by his friends, during his teenage years in which his hair bore a similarity to the Scooby Doo character. He is especially notable for his distinctive sub-baritone voice.
His family moved to the United States from Jamaica and they settled in the neighborhood of Flatbush, Brooklyn, located in New York City. Shaggy moved to Valley Stream, New York, and made one of his own recording studios in the town. In 1988, he joined the United States Marine Corps as a Field Artillery Cannoneer with 5th Battalion, 10th Marines. While enlisted in the Marines he served during Operation Desert Storm during the Gulf War. It was during this time that Shaggy perfected his signature singing voice, breaking the constant monotony of running and marching cadences with his flair for inflection.
Upon his return from the Persian Gulf, he decided to pursue his music career and his first hit in 1993: "Oh Carolina", was a dancehall re-make of a ska hit by the Folkes Brothers. The same year, Shaggy appeared on Kenny Dope's hip hop album "The Unreleased Project". He worked together with producers such as Sting Intl., Don One (who cut his first track), Lloyd 'Spiderman' Campbell and Robert Livingston. He had further big hits, including "Boombastic" in 1995, the theme tune of a popular Levi's commercial.
He then had a major comeback in 2001, featuring worldwide number-one hit singles "It Wasn't Me" and "Angel," the latter of which was built around two song samples - Merrilee Rush's 1968 hit "Angel of the Morning" (which was remade in 1981 by Juice Newton), and The Steve Miller Band's 1973 hit "The Joker". The album Hot Shot, from which those cuts came, would hit number one on the Billboard 200. However, his 2002 release Lucky Day, and the 2005 album Clothes Drop failed to match Hot Shot's success. Shaggy recorded the theme for Showtime, a 2002 movie.
On 11 March 2007, Shaggy performed the official song of the ICC Cricket World Cup 2007, entitled "The Game of Love and Unity", with Barbadian entertainer Rupee and Trinidadian Faye-Ann Lyons at the opening ceremony at The Greenfield Stadium, Trelawny, Jamaica. Shaggy left Universal and will be releasing his latest album under his own label Big Yard Records with distribution by VP Records. On August 2007, he joined Cyndi Lauper in Singapore for the Sonnet Music Festival, where they performed "Girls Just Want To Have Fun". On October 15 2007, he was awarded the Jamaican Order of Distinction in the rank of Commander (CD). Shaggy's music is characterized by a strong Jamaican accent, which may be hard to understand to some. However, Shaggy's natural speaking accent is not Jamaican, but rather mid-west American.