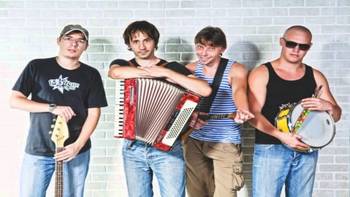 The band existed for a very long time as a project of three friends Timur (bass), Alex (accordion) and Yura (balalaika) later joined by drummer Alex. Only in 2006 the idea great idea of covering popular songs in Russian folk style was finally presented as a band - Selo and Ludy. After a year of successful shows the band replaced Alex with a new member - drummer Julia.
The name of the band can be translated from Ukrainian as village and people, and all the elements of the band are connected with the stereotypical view of Russian villages. Of course you can't expect bears on stage but you will definitely get a glimpse of "vodka and balalaika energy" watching these strangely dressed guys on stage.
The sound is similar to modern folk rock acts like Gogol Bordello and The Ukrainians. Of course the whole idea was already presented by American bands – Iron Horse and Hayseed Dixie and you can find at least dozen acts working in similar style but the folk element remains unique. It can range from balalaika solos in Still Loving You (by Scorpions) to dancing beats of popular dance hit I like To Move It, with small parts like the Star Wars imperial march or melodies from soviet movies. But still one thing remains – the energy, it is impossible to stand still on their shows.


Das Folkcore Quartett "Selo i Ludy" übersetzt aus dem Russischen "Das dorf und die Menschen". Die Band, die durch ihren Auftritt bei der ukrainischen TV-Show "Das Super Talent" ihren Bekanntheitsgrad erreicht hat, begeistert durch ihre fröhlichen Reinterpretationen bekannter Rock- und Popklassiker. Bekannte Songs wie "It's my Life" und "Satisfaction" werden durch den Kakao á la Babushkasound gezogen.
E-Gitarre wird zu Balalaika und das Akkordion ersetzt die Hammond-Orgel. Heavymetalsongs mutieren dadurch zur UnzaUnza-Polka und wenn man sich den Song "Pretty Woman" mit einem ukrainschen Akzent und einer tiefen Männerstimme, wie das bei "Selo i Ludy" der fall ist, nur vorstellt dann möchte man sich totlachen und gleichzeitig den Kosachok tanzen.