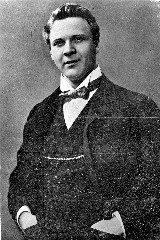 Feodor Ivanovich Chaliapin (Russian: Фёдор Иванович Шаляпин, Fyodor Ivanovich Shalyapin; February 13 [O.S. February 1] 1873–April 12, 1938) was the most famous Russian opera singer of the 20th Century. Owing to his powerful and flexible bass voice, employed in conjunction with a mesmerizing stage presence and superb acting ability, he is considered one of the greatest performers in the history of opera. He is often credited with establishing the tradition of naturalistic acting in his chosen art form. During the Russian phase of his career, Chaliapin was confronted with strong competition from two other great Russian basses, the black-voiced Lev Sibiriakov (1869-1942) and the more lyrical Vladimir Kastorsky (1871-1948). The fact that Chaliapin is far and away the best remembered of this distinguished trio is testament to the magnetic power of his performances on stage.
Feodor Chaliapin was born into a peasant family on February 1 (OS) 1873 in Kazan, in the wing of merchant Lisitzin's house on Rybnoryadskaya Street (now Pushkin Street) 10. This wing exists no longer, but the house with the yard where the wing was situated is still there. The next day, Candlemas Day (The Meeting of Our Lord), Feodor was baptized in Bogoyavlenskaya church on former Bolshaya Prolomnaya street (nowadays Bauman Street). His godparents were the neighbours: the shoemaker Nikolay Tonkov and 12-year-old girl Ludmilochka Kharitonova. The dwelling was expensive for his father, Ivan Yakovlevich, who served as a clerk in the Zemskaya Uprava (Land Council), and in 1878 the Chaliapin family moved to the village Ametyevo (also Ometyevo, or the Ometyev settlements, now a settlement within Kazan) behind the area of Sukonnaya Sloboda, and settled in a small house.
Largely self-taught, he began his career at Tbilisi and the Imperial Opera, St. Petersburg in 1894; he was then invited to sing at the Mamontov Private Opera (1896-1899). The Bolshoi Theatre in Moscow then engaged him, where he appeared regularly from 1899 until 1914. During the First World War, Chaliapin alo appeared regularly at the Zimin Private Opera in the Russian capital.
From 1901, Chaliapin began appearing the West, making a sensational debut at La Scala that year as the devil in a production of Boito's Mefistofele, under the baton of the 20th Century's most dynamic opera conductor, Arturo Toscanini. At the end of career, Toscanini observed that the Russian bass was the greatest operatic talent with whom he had ever worked. The singer's Metropolitan Opera debut in the 1907 season was disappointing due to the unprecedented frankness of his stage acting; but he returned to the Met in 1921 and sang there with immense success for eight seasons, the taste of New York audiences having grown more broad-minded in the meantime. In 1913, Chaliapin was introduced to London and Paris by the brilliant entrepreneur Sergei Diaghilev, at which point he began giving well-received solo recitals in which he sang traditional Russian folk songs as well as more serious fare. Among these songs are Along Peterskaya, which he recorded with a British-based Russian folk-instruments' orchestra, and the song which he made famous throughout the world: The Song of the Volga Boatmen.
In 1926, Chaliapin toured Australia to acclaim.
In terms of his private life, Chaliapin's personal arrangements had been disrupted in the wake of the Russian Revolution of 1917. At first, he was treated as a revered artist of the newly-emerged Soviet Russia. However, the harsh realities of everyday life under the new regime, and the unstable psychological climate which became manifest during the ensuing Civil War, combined with, reportedly, the encroachment on some of his property by the Communist authorities [1], caused him to remain perpetually outside Russia after 1921. He still maintained, however, that he was not anti-Soviet. Chaliapin initially moved to Finland and later lived in France. Cosmopolitan Paris, with its significant Russian emigre population, became his base, and ultimately, the city of his death. He was renowned for his larger-than-life carousing during this period - but he never sacrificed his dedication to his art.
Chaliapin's attachment to Paris did not prevent him, however, from pursuing an international operatic and concert career in England, America and further afield. His most famous part was the title role of Boris Godunov (excerpts of which he recorded 1929-31 and earlier). But he is remembered also for his impersonations of Ivan the Terrible in Rimsky-Korsakov's Maid of Pskov, Mephistopheles in Gounod's Faust, Massenet's Don Quichotte, King Philip in Giuseppe Verdi's Don Carlos and Bertram in Meyerbeer's Robert le Diable. Owing to his irresistable advocacy, Russian operas such as Mussorgsky's Boris Godunov and Khovanshchina, Glinka's Ivan Susanin, Borodin's Prince Igor and Rimsky-Korsakov's The Tsar's Bride became well known in the West. He made one sound film for the director G.W. Pabst, namely, the 1933 film version of Adventures of Don Quixote. Rather than going out in one version with subtitles, the film was made in three different versions - French, English, and German, as was sometimes the prevailing custom. Chaliapin starred in all three versions, each of which used the same script, sets and costumes, but different supporting casts. The English and the French versions are the most often seen, and both were released in May 2006 on a DVD. Pabst's film was not a version of the Massenet opera but a dramatic adaptation of Cervantes' novel, with music and songs provided by Jacques Ibert.
Chaliapin's last stage performance took place at the Monte Carlo Opera in 1937, as Boris.
In 1932, Chaliapin published a memoir, Man and Mask: Forty Years in the Life of a Singer, prepared in collaboration with Maxim Gorky. He died the following year of leukaemia, aged 65, in Paris, where he was interred. In 1984, his remains were transferred from Paris to Moscow with elaborate ceremony. They were re-buried in the Novodevichy Cemetery.
One of his sons, Feodor Chaliapin, Jr. (1905-1992), had a notable career in Western motion pictures as a character actor. Another son, Boris Chaliapin, was a well-known artist, having painted the portraits used on 414 covers of the mass-circulation news magazine TIME between 1942 and 1970.