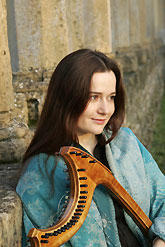 Arianna Savall i Figueras (born 1972, Basel, Switzerland) is a Swiss-born Spanish classical singer, harpist, and composer. She is the daughter of composer and viol player Jordi Savall and the late singer Montserrat Figueras, and the sister of Ferran Savall. She studied voice at the Conservatory of Terrassa with María Dolores Aldea in 1993. She graduated in harp from the Conservatory of Terrassa, Spain, in 1996, and obtained a degree in voice in 2000. In 1992, she began studying with Rolf Lislevand at the Toulouse Conservatory.

In 1996, she returned to Switzerland and attended a seminar led by Kurt Widmer at the Schola Cantorum Basiliensis.

In 2000, she gave a harp "Abschlusskonzert" and sang in the Opera Seria (Vienna 1769: Florian Leopold Gassman) at the Theater Basel. In 2001, she completed her studies in voice at the Scola Cantorum Basiliensis with a recital (Abschlusskonzert).

She has also recorded with Ensemble Melpomen, Conrad Steinmann's group that dedicates itself to reconstructing music from ancient Greece.

She has been a member of Hespèrion XXI and was part of her father's musical groups until 2008 when she created her own group Hirundo Maris, together with the Norwegian musician Petter Udland Johansen.