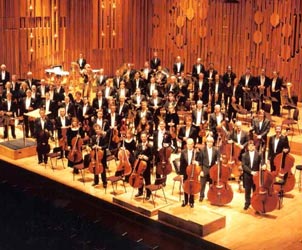 The Royal Philharmonic Orchestra (RPO) is a British orchestra based in London. It tours widely, and is sometimes referred to as "Britain's national orchestra".

The RPO was founded in 1946 by Sir Thomas Beecham and played its first concert in Croydon on September 15, 1946. Beecham was principal conductor until his death in 1961. He was followed by then assistant conductor Rudolf Kempe, who was given the title of Conductor for Life in 1970. Subsequent musical directors and principal conductors have been Antal Doráti, Walter Weller, André Previn, Vladimir Ashkenazy. Yuri Temirkanov was appointed principal conductor in 1992. Daniele Gatti became the RPO's music director in 1996. He will step down from this post in 2009 and become Conductor Laureate. In 2009, Charles Dutoit will become the Orchestra's artistic director and principal conductor.
The orchestra toured the United States in 1950, thus becoming the first British orchestra to visit America since the London Symphony Orchestra in 1912.
A Review of the orchestral scene of 1950 said of the RPO:
Leader David McCallum … Royal Philharmonic Society concerts (Beecham 4, Celibidache, Sargent). Number of concerts: 32 (approx)…. The Philharmonia and Royal Philharmonic share a very serious disability: that neither is a permanently constituted orchestra. Both assemble and disperse more or less at random…there is no style which is distinctively RPO or Philharmonia.
Later the orchestra began to develop its own character, particularly in the woodwind section, led by Jack Brymer (clarinet), Gwydion Brooke (bassoon), Terence McDonagh (oboe), and Gerald Jackson (flute), sometimes referred to as 'The Royal Family'.
After Beecham's death, the orchestra reorganised itself as a self-governing limited company. and soon encountered difficulties. The Royal Philharmonic Society decided not to engage the RPO for its concerts in 1963, Glyndebourne engaged the London Philharmonic instead of the RPO from 1964 onwards and the management of the Royal Festival Hall also severed its connections with the orchestra. Some senior players left, and Kempe resigned as chief conductor, though he returned shortly afterwards. Helped by strong support from Sir Malcolm Sargent the orchestra successfully mounted its own concerts at a cinema in the London inner suburb, Swiss Cottage.
A further threat to the orchestra's existence came in 1984, when a review carried out on behalf of the Arts Council by the journalist William Rees-Mogg opined that England lacked 'a great eastern symphony orchestra': the suggestion was that the RPO should move to Nottingham. However, another Arts Council report of the same period recommended that the RPO should supplement the London Symphony Orchestra as resident orchestra at the Barbican Centre; neither proposal came to fruition.
In 1992 the orchestra appointed Peter Maxwell Davies as associate conductor and composer of the RPO

On April 7, 1994, the Royal Philharmonic under the direction of Sir Gilbert Levine had the honor of performing at the Vatican in the historic "Papal Concert to Commemorate the Holocaust," with cellist Lynn Harrell and Academy Award-winning actor Richard Dreyfuss as narrator.