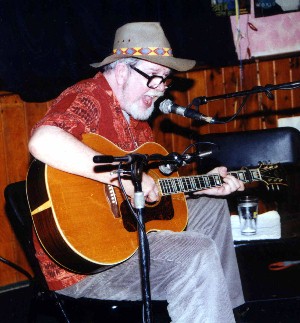 Guitarist, singer, songwriter and native New Yorker Dave van Ronk has inspired, aided and promoted the careers of numerous singer/songwriters who came up in the blues tradition. Most notable of the many musicians he's helped over the years is Bob Dylan, whom Van Ronk got to know shortly after Dylan moved to New York in 1961 to pursue a life as a folk/blues singer.
Van Ronk's recorded output over the years is healthy, but he's never been as prolific a songwriter as some of his friends from that era, like Dylan or Tom Paxton. Instead, the genius of what Van Ronk does lies in his flawless execution and rearranging of classic acoustic blues tunes.
Born June 30, 1936, in Brooklyn and raised there, Van Ronk never completed high school, and left home for Greenwich Village, a few miles away, in stages as a late teenager. Van Ronk's recording career began in 1959 with Ballads, Blues and a Spiritual on the Moses Asch's Folkways label. He took his inspiration from Odetta, who encouraged the then-merchant seaman to play the classic jazz music that he was so keenly interested in.
Van Ronk, an expert finger picker, was influenced as a vocalist by Bing Crosby and Louis Armstrong. Although he had a short-lived folk rock band called the Hudson Dusters in the mid-'60s, the bulk of Van Ronk's recordings are solo acoustic affairs. His 1967 album for Verve Forecast, Dave Van Ronk and the Hudson Dusters, is worthy of reissue on compact disc for it's sound qualities and for the statements it makes about American society in the 1960s.
Often regarded as the grand uncle of the Greenwich Village coffeehouse scene, the self-effacing Van Ronk, an engaging intellectual and voracious reader, would be the first to tell you that there were others, like blues and folk singer Odetta, who were around Greenwich Village before him. As the blues and folk boom bloomed into the 1960s, Van Ronk became part of an inner circle of musicians who then lived in Greenwich Village, including then up and coming performers like Bob Dylan, Tom Paxton, Phil Ochs, Ramblin' Jack Elliot and Joni Mitchell.
Van Ronk's reputation wasn't solid, however, until he began recording for the Prestige label in the first half of the 1960s. These recordings allowed him to tour throughout the U.S. and perform at major folk festivals like Newport.
Different recordings of Van Ronk's serve different purposes: to check out Van Ronk the songwriter, pick up Going Back to Brooklyn (Gazell Productions, 1985), which was his first all-original album, containing only his own songs; for students of Van Ronk's complex guitar technique, pick up Dave Van Ronk, a compact disc reissue of two earlier Prestige albums, Dave Van Ronk, Folksinger and Inside Dave Van Ronk. Another compilation, The Folkways Years, 1959-1961, is available from Smithsonian/Folkways in Washington, D.C.
Van Ronk continued to record throughout the '90s and beyond,with theAlcazar Records label releasing From...Another Time and Place in 1995 and Justin Time issuing Sweet and Lowdown in 2001. He died, unexpectedly, while undergoing post-operative treatment for colon cancer on February 10, 2002. A CD of his last concert, from October 2001 in Takoma Park, Maryland, was released by Smithsonian Folkways in 2004 as ...And the Tin Pan Bended and the Story Ended.