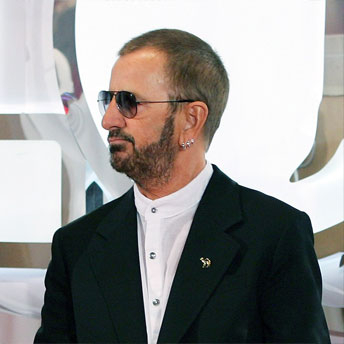 Richard Starkey, MBE (born 7 July 1940), better known by his stage name Ringo Starr, is an English musician, singer-songwriter, and actor who gained worldwide fame as the drummer for the rock group The Beatles. When the band formed in 1960, Starr belonged to another Liverpool band, Rory Storm and the Hurricanes. He became The Beatles' drummer in 1962, taking over from Pete Best. In addition to his contribution as drummer, Starr featured as lead singer on a number of successful Beatles songs (in particular, "With a Little Help from My Friends", "Yellow Submarine", and the Beatles version of "Act Naturally") and as songwriter with the songs "Don't Pass Me By", "What Goes On", and "Octopus's Garden".
As drummer for The Beatles, Starr was musically creative, and his contribution to the band's music has received high praise from notable drummers in more recent times. Starr described himself as "your basic offbeat drummer with funny fills", technically limited by being a left-handed person playing a right-handed kit. Drummer Steve Smith said that Starr's popularity "brought forth a new paradigm" where "we started to see the drummer as an equal participant in the compositional aspect" and that Starr "composed unique, stylistic drum parts for The Beatles songs".
Starr is the most documented and critically acclaimed actor-Beatle, playing a central role in several Beatles films, and appearing in numerous other movies, both during and after his career with The Beatles. After The Beatles' break-up in 1970, Starr achieved solo musical success with several singles and albums, and recorded with each of his fellow ex-Beatles as they too developed their post-Beatle musical careers. He has also been featured in a number of TV documentaries, hosted TV shows, and narrated the children's television series Thomas the Tank Engine & Friends. He currently tours with Ringo Starr & His All-Starr Band.

Starr generally sang at least one song on each studio album as part of an attempt to establish the vocal personality of all four members. In some cases, Lennon or McCartney wrote the lyrics and melody especially for him, as they did for "Yellow Submarine" from Revolver (1966) and "With a Little Help from My Friends" on Sgt. Pepper. These melodies were tailored to Starr's baritone vocal range. Starr's backing vocals are heard on songs such as "All Together Now", "Carry That Weight", and "The Continuing Story of Bungalow Bill".

While Starr himself has been the first to acknowledge the technical limitations of his drumming for The Beatles, the overall effect of his contribution has received high praise from notable drummers. Starr said, "Whenever I hear another drummer I know I'm no good. I'm no good on the technical things [...] I'm your basic offbeat drummer with funny fills. The fills were funny because I'm really left-handed playing a right-handed kit. I can't roll around the drums because of that." George Martin's version was, "Ringo hit good and hard and used the tom-tom well, even though he couldn't do a roll to save his life", although Martin later added, "He's got tremendous feel. He always helped us to hit the right tempo for a song, and gave it that support—that rock-solid back-beat—that made the recording of all The Beatles' songs that much easier." Lennon, asked if Starr was the best drummer in the world, jokingly replied, "He's not even the best drummer in The Beatles!", but also said, "Ringo's a damn good drummer. He always was a good drummer. He's not technically good, but I think Ringo's drumming is underrated the same way as Paul's bass playing is underrated." McCartney sent Starr a postcard on 31 January 1969 (the day after the band's performance on the roof of Apple Studios) stating: 'You are the greatest drummer in the world. Really.' This postcard is included in Starr's book Postcards From The Boys.

Many drummers acknowledge Starr as an influence, including Steve Gorman of The Black Crowes, Dave Grohl of Nirvana/Foo Fighters, Orri Páll Dýrason of Sigur Rós, Max Weinberg of the E Street Band, Danny Carey of Tool, Liberty DeVitto of Billy Joel's band, Nicko McBrain of Iron Maiden, Eric Carr of Kiss, Phil Rudd of AC/DC, Phil Collins, Mike Portnoy of Dream Theater, Pedro Andreu of Heroes del Silencio and others. In his extensive survey of The Beatles' recording sessions, Mark Lewisohn confirmed that Starr was both proficient and remarkably reliable and consistent. According to Lewisohn, there were fewer than a dozen occasions in The Beatles' eight-year recording career where session 'breakdowns' were caused by Starr making a mistake, while the vast majority of takes were stopped owing to mistakes by the other three members.Starr is considered to have influenced various modern drumming techniques, such as the matched grip, placing the drums on high risers for visibility as part of the band, tuning the drums lower, and using muffling devices on tonal rings. Starr drummed on all but five of the band's released tracks that feature drumming. For the band's second recording session with Starr as a member on 11 September 1962, producer George Martin replaced the studio-inexperienced Starr with session drummer Andy White to record takes for what would be the two sides of The Beatles' first single, "Love Me Do" backed with "P.S. I Love You". Starr played tambourine on "Love Me Do" and maracas on "P.S. I Love You" for this session. McCartney took over the drums on "Back in the U.S.S.R." and "Dear Prudence" from the White Album (1968) after Starr had walked out, and also played the drums on "The Ballad of John and Yoko", recorded on 14 April 1969, since only he and Lennon were immediately available to record the song. Starr commented that he was lucky in being "surrounded by three frustrated drummers" who could only drum in one style.

Starr married Maureen Cox in February 1965, and they had three children Zak (b. 13 September 1965), Jason (b. 19 August 1967), and Lee (b. 17 November 1970); the couple divorced in 1975, and Cox died in 1994. In 1980, on the set of the film Caveman, he met actress Barbara Bach, who played the role of Major Anya Amasova (female lead and main 'Bond girl') in The Spy Who Loved Me. They were married on 27 April 1981, just a few weeks after the release of Caveman. Starr resides in Los Angeles and also maintains homes in Cranleigh, Surrey and Monte Carlo. His son, Zak, is a prolific drummer, who until August 2008 was a semi-official member and drummer in Oasis—one of the many bands influenced by The Beatles. Starr arranged for Zak to receive drumming instruction from Zak's idol, The Who's late drummer Keith Moon, who was Zak's godfather and a close friend of Starr's. Zak also performs with The Who live (such as during the Super Bowl XLIV Halftime show in 2010) and sometimes in the studio. In 1985, Starr was the first of The Beatles to become a grandfather upon the birth of Zak's daughter, Tatia Jayne Starkey. Zak has performed with his father during some All-Starr Band tours. Like fellow ex-Beatle McCartney, Starr is a vegetarian. Unlike McCartney, who is vegetarian for ethical reasons, Starr is vegetarian because of stomach problems he had in the past. Starr was left-handed until he became ambidextrous when, during his childhood, his grandmother helped him learn to write with his right hand.