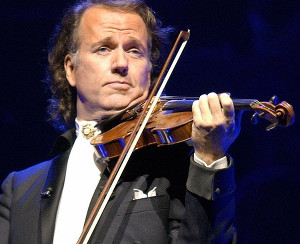 André Léon Marie Nicolas Rieu (born 1 October 1949) is a Dutch violinist and conductor best known for creating the waltz-playing Johann Strauss Orchestra. Together they have turned classical and waltz music into a worldwide concert touring act, as successful as some of the biggest global pop and rock music acts. For his work, Rieu has been awarded such honours as the Order of the Netherlands Lion by the Netherlands, the Knight of the Ordre des Arts et des Lettres by France, and the Honorary Medal by his native Province of Limburg.

At university he performed the Gold And Silver Waltz by Franz Lehár. Encouraged by the audience reaction he decided to pursue the waltz form. Rieu formed the Maastricht Salon Orchestra, and served as violinist with the Limburg Symphony Orchestra. In 1987, he created the Johann Strauss Orchestra and established his own production company. Since then, his melodramatic stage performances and rock-star demeanor have been widely associated with a revival of the waltz music category. André Rieu plays a 1667 Stradivarius violin.

In spite of its wide international success, Rieu's mix of waltzes, popular music, comedy, and pathos has attracted its critics. While extreme, David Templeton's view in the magazine All Things Strings is typical:

Ironically, it is Rieu's own success that has earned him a horse-drawn carriage full of criticism, a pot-shot laden backlash aimed chiefly at the calculated emotionalism and theatrical flourishes of his performances, which, according to many, only cheapen the classical-music experience. Classical radio stations avoid his music as they might avoid a leper in the mall, though—let's just say it plain and clear—Rieu is a superb violinist.

Of Rieu's popularity and the media debate surrounding him, Eamon Kelly wrote in The Australian newspaper: "It is disappointing to see professional journalists indulging in cheap, inaccurate stereotypes to dismiss criticism of Rieu." But he goes on to add: "Equally misguided are those who cursorily dismiss Rieu. Rieu's live and recorded performances have brought joy to millions of people. Few in his audiences are regular classical music attendees and it could be seen as promising that, via Rieu, they are listening to standards of the classical canon. The fact that Rieu's focus is on highly accessible, enjoyable repertoire is not an argument against his musical credentials."

Chris Boyd, a critic writing for Melbourne's Herald Sun newspaper, found he could not give a general criticism of Rieu's playing, as, except for "a clean and lyrical solo in Waltzing Matilda", his main stage function was apparently "blarney and delegation". However, Boyd also comments that the quality of the artists with whom Rieu works is "extraordinary".

Rieu has been married to wife Marjorie (b. 1951) since 1975; they have two sons, Marc (b. 1978) and Pierre (b. 1981). Studied in German and Italian, film science, and French literature, Marjorie serves as her husband's full-time production manager and writes children's books.

Rieu engages his audiences in a variety of languages. Along with Dutch (including his native Limburgish), he also speaks (in order of fluency) English, German, French and Italian.