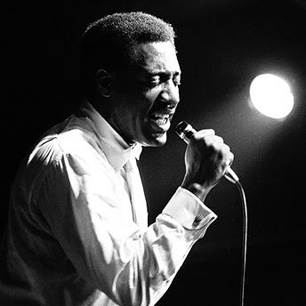 Otis Ray Redding, Jr. (September 9, 1941 – December 10, 1967) was an American singer-songwriter, record producer, arranger and talent scout. He is considered one of the greatest singers in the history of American popular music and a seminal artist in soul and rhythm and blues. His singing style was powerfully influential among soul artists of 1960s and helped exemplify the Stax sound. Born and raised in Georgia, United States, Redding left school at age 15 to support his family, working with Little Richard's backing band, the Upsetters, and performing at talent shows for prize money. In 1958, he joined Johnny Jenkins's band, the Pinetoppers, and toured the Southern United States as a driver and musician. An unscheduled appearance on a Stax recording session led to a contract and his first single, "These Arms of Mine," in 1962. Stax released Redding's debut album Pain in My Heart two years later.

Initially popular mainly with African Americans, Redding later reached a wider American popular music audience. Along with his group, he first played small gigs in the American South, then debuted in the western United States at L.A.'s popular night club the Whisky a Go Go. Later appearances included Paris, London and other European cities. After appearing at the 1967 Monterey Pop Festival, Redding wrote and recorded his iconic "(Sittin' On) The Dock of the Bay" with Steve Cropper. The song became the first posthumous number-one record on both the Billboard Hot 100 and R&B charts after his death in a plane crash. The Dock of the Bay became the first posthumous album to reach number one on the UK Albums Chart.

Redding's premature death devastated Stax. Already on the verge of bankruptcy, the label soon discovered that Atlantic Records owned the rights to his entire song catalog. Redding received many posthumous accolades, including the Grammy Lifetime Achievement Award and induction into the Rock and Roll Hall of Fame and the Songwriters Hall of Fame. He received the honorific nickname King of Soul. In addition to "(Sittin' On) The Dock of the Bay," "Respect" and "Try a Little Tenderness" are among his best-known songs. Redding, who was 6 feet 2 inches (1.88 m) tall and weighed 220 pounds (100 kg), was an athletic family man who loved football and hunting. He was described as vigorous, trustworthy, full of fun and a successful businessman. According to several people, Redding's personality never fully matured either on stage or in public life. His brother Rodgers thought he was "confused", while Alan Walden described him as "naive". He was active in philanthropic projects. His keen interest in black youth led to plans for a summer camp for disadvantaged children.

Redding's music made him wealthy. According to several advertisements, he had around 200 suits and 400 pairs of shoes, and he earned about $35,000 per week for his concerts. He spent about $125,000 in the "Big O Ranch". As the owner of Otis Redding Enterprises, his performances, music publishing ventures and royalties from record sales earned him more than a million dollars in 1967 alone. That year, one columnist said, "he sold more records than Frank Sinatra and Dean Martin combined." After the release of Otis Blue, Redding became a "catalogue" artist, meaning his albums were not immediate blockbusters, but rather sold steadily over time.

Early on Redding copied the rock and soul style of his role model Little Richard. He was also influenced by soul musicians such as Sam Cooke, whose live album Sam Cooke at the Copa was a strong influence, but later explored other popular genres. He studied the recordings of The Beatles and Bob Dylan. His song "Hard to Handle" has elements of rock and roll and influences of Eric Clapton and Jimi Hendrix. Most of his songs were categorized as Southern soul and Memphis soul.

His hallmark was his raw voice and ability to convey strong emotion. Richie Unterberger of Allmusic noted his "hoarse, gritty vocals, brassy arrangements, an emotional way with both party tunes and aching ballads." In the book Rock and Roll: An Introduction, authors Michael Campbell and James Brody suggested that "Redding's singing calls to mind a fervent black preacher. Especially in up-tempo numbers, his singing is more than impassioned speech but less than singing with precise pitch." According to the book, "Redding finds a rough midpoint between impassioned oratory and conventional singing. His delivery overflows with emotion" in his song "I Can't Turn You Loose". Booker T. Jones described Otis' singing as energetic and emotional, but said that his vocal range was limited, reaching neither low nor high notes. Peter Buckley of The Rough Guide To Rock describes his "gruff voice, which combined Sam Cooke's phrasing with a brawnier delivery" and later suggested he "could testify like a hell-bent preacher, croon like a tender lover or get down and dirty with a bluesy yawp".

Redding received advice from Rufus Thomas about his clumsy stage appearance. Jerry Wexler said Redding "didn't know how to move", and stood still, moving only his upper body, although he acknowledged that Redding was well received by audiences for his strong message. Guralnick described Redding's painful vulnerability in Sweet Soul Music, as an attractive one for the audience, but not for his friends and partners. His early shyness was well known.

By 1967 the band was traveling to gigs in Redding's Beechcraft H18. On December 9, 1967, they appeared on the Upbeat television show produced in Cleveland. They played three concerts in two nights at a small club called Leo's Casino. After a phone call with Zelma and their children, Redding's next stop was Madison, Wisconsin; the next day they were to play at the Factory nightclub near the University of Wisconsin.

Although the weather was poor, with heavy rain and fog and despite warnings, the plane took off. Four miles from their destination at Truax Field in Madison, the pilot radioed for permission to land. Shortly thereafter, the plane crashed into Lake Monona. Bar-Kays member Ben Cauley, the accident's sole survivor, was sleeping shortly before the accident. He woke just before impact to see bandmate Phalon Jones look out a window and exclaim, "Oh, no!" Cauley said the last thing he remembered before the crash was unbuckling his seat belt. He then found himself in frigid water, grasping a seat cushion to keep afloat. A non-swimmer, he was unable to rescue the others. The cause of the crash was never determined. James Brown claimed in his autobiography, The Godfather of Soul, that he had warned Redding not to fly in the plane.

Aretha Franklin stated, "I heard it on the TV. My sister Caroline and I stopped everything and stayed glued to the TV and radio. It was a tragedy. Shocking." Other victims were pilot Richard Fraser, drummer Matthew Kelly, lead guitarist of the Bar-Kays Jimmy King, tenor saxophonist Phalon Jones, organist Ronnie Caldwell and drummer Carl Cunningham.

Redding's body was recovered the next day when the lake bed was searched. The family postponed the funeral from December 15 to 18 so that more could attend. The service took place at the City Auditorium in Macon. More than 4,500 people came to the funeral, overflowing the 3,000-seat hall, although many did not know who he was. Johnny Jenkins and Isaac Hayes did not attend, fearing their reaction would be worse than Zelma Redding's. Redding was entombed at his ranch in Round Oak, about 20 miles (32 km) north of Macon. Jerry Wexler delivered the eulogy. Redding died just three days after recording Dock of the Bay. He was survived by Zelma and three children, Otis III, Dexter and Karla. Otis, Dexter and cousin Mark Lockett later founded the Reddings, a band managed by Zelma. She also maintained or worked at the janitorial service Maids Over Macon, several nightclubs and booking agencies. On November 8, 1997, a memorial plaque was placed on the lakeside deck of the Madison convention center, Monona Terrace.