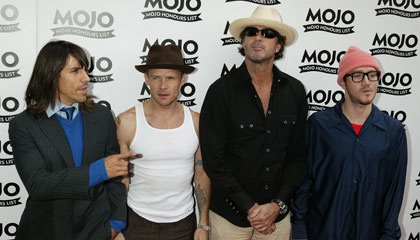 The Red Hot Chili Peppers are an American alternative rock band formed in Los Angeles, California, in 1983. For most of its career, the band has consisted of vocalist Anthony Kiedis, guitarist John Frusciante, bassist Michael "Flea" Balzary, and drummer Chad Smith. The band's varied musical style has fused traditional rock and funk with various elements of heavy metal, punk rock, and psychedelic rock. In addition to Kiedis and Flea, the group originally featured guitarist Hillel Slovak and drummer Jack Irons. However, Slovak died of a heroin overdose in 1988, resulting in Irons resigning. Irons was replaced briefly by D. H. Peligro, former Dead Kennedys drummer, before the band found a permanent replacement in Chad Smith, while Slovak was replaced by up-and-coming guitarist Frusciante. This lineup recorded the band's fourth and fifth albums, 1989's Mother's Milk and 1991's Blood Sugar Sex Magik. Blood Sugar Sex Magik was a critical success and sold over twelve million copies. However, Frusciante grew increasingly uncomfortable with the band's success and left the band abruptly in 1992. Kiedis, Flea, and Smith employed Dave Navarro of Jane's Addiction for their subsequent album, 1995's One Hot Minute. It failed, however, to match the critical acclaim of Blood Sugar Sex Magik and sold fewer than half the copies of its predecessor. Shortly afterwards, Navarro was fired from the band due to creative differences. Frusciante, while absent from the band, developed a severe drug addiction and nearly died. In 1998, he completed rehabilitation and, at Flea's request, rejoined the band. The reunited foursome returned to the studio to record 1999's Californication, which went on to sell fifteen million units worldwide, becoming their most successful album to date. It was followed three years later with By the Way, which continued their success. In 2006, the group released the double album Stadium Arcadium. It was voted the second best album of 2006 by Rolling Stone magazine. It also won the Grammy Award for Best Rock Album and was also nominated for the "Album of the Year" at the 2007 ceremony.
Kiedis provides a range of vocal styles while singing. His approach of spoken verse and "rapping" (the primary characteristic of his vocals up to Blood Sugar Sex Magik) complemented with more traditional vocals have helped the band maintain a relatively consistent style. Nevertheless, as the group has matured, the vocal sequences present in albums starting from Californication have drastically reduced the number of rapidly sung verses. By the Way only contained one song which remained true to the rap-driven-verses and subsequent melodic choruses. Kiedis' more recent style has been developed through coaching throughout all nine of Red Hot Chili Peppers' albums. Hillel Slovak's style was strongly based on blues and funk. Early replacements, including current guitarist John Frusciante, based their style significantly on Slovak's. However, Frusciante has brought a more melodic and textured sound to more recent albums such as By the Way , Californication and Stadium Arcadium. This contrasts with his previous abrasive approach in Mother's Milk, as well as his dry, funky and more docile arrangements on Blood Sugar Sex Magik. Dave Navarro brought an entirely different sound to the band during his tenure, with his style based on heavy metal, progressive rock and psychedelia. Flea's bass style is an amalgamation of funk, psychedelic, punk, and hard rock. The groove-heavy, low-tuned melodies, played through either normal finger style or aggressive slapping (popping and slapping), have contributed to the Red Hot Chili Peppers' signature style. While Flea's slap bass style was prominent in earlier albums, later albums (post "Blood Sugar Sex Magik") have more melodic bass lines. He has also used double stops on "Don't Forget Me", "Blood Sugar Sex Magik" "Hump de Bump" and "Snow ((Hey Oh))". Chad Smith's in-the-pocket style of drumming adds space and allows Frusciante and Flea to add melodies to the beats and grooves more effectively. He actively employs rapid successions of the bass drum - often following Flea's fast bass lines - with only one bass drum pedal. This is evident in the song "The Greeting Song", where in the main riff Smith's bass drum mimics Flea's bass accents. In addition, a song like "Give It Away" demonstrates his in-the-pocket drumming that places focuses on the groove over flashiness. However, Smith is known to play "flashy" fills during the band's live performances, although he has downplayed the importance of this, stating "Playing well with others is important - not being too flashy." While Kiedis is the lead vocalist for the band, Frusciante often contributes backing vocals and two part harmonies to various songs. He sang lead on the chorus of such Blood Sugar Sex Magik songs as "The Power of Equality", "Funky Monks", "Breaking The Girl" and "The Righteous and the Wicked". His falsetto is used frequently, particularly on By the Way and Stadium Arcadium, though it was also used on Blood Sugar Sex Magik on the songs "If You Have to Ask" and "Under the Bridge". Frusciante shared lead vocal duties with Kiedis on "Knock Me Down" from Mother's Milk, and has solo spots on songs such as "Dosed" and "Desecration Smile". It has become a tradition that at some point during a Chili Peppers concert John performs an unaccompanied cover song, usually a hit from the 1960s or 1970s, or one of his own solo songs. Such songs include "Tiny Dancer" by Elton John, "How Deep Is Your Love" by The Bee Gees, "Maybe" by The Chantels,"I Feel Love" by Donna Summer, "For Emily, Wherever I May Find Her" by Simon and Garfunkel, "Runaway" by Del Shannon, How Can I Tell You? by Cat Stevens, "Will You Love Me Tomorrow?" by Carole King, "See Emily Play" by Pink Floyd, "SOS" by ABBA, "The Metro" by Berlin, "Inca Roads" by Frank Zappa, and various songs from his solo albums.
Improvisation has always been a major part of the band's signature style, with early shows composed almost entirely of improvisations. In addition, many guitar solos recorded on the current albums and played live by Frusciante are improvised, as are several of Flea's bass solos. The band has, for most of the last decade, opened the show with a short improvisation, always in the same key as the initial song. Sometimes the beginnings, middle sections and/or endings of the songs are extended by long improvisations, such as "Give It Away", "My Lovely Man", "If You Have to Ask", "Californication", "Parallel Universe", "Can't Stop", "Throw Away Your Television", "By the Way" and "Dani California". The group has always ended the show with a longer improvisation, usually stemming from the improvisation to "Give It Away". The idea of the band improvising at their shows stems from a request that Frusciante asked of Kiedis upon returning to the band for "Californication".Through the years, Kiedis' lyrics have dealt with a variety of topics, which have shifted as time has progressed. Themes within his repertoire include love and friendship, teenage angst and good-time aggression, various sexual topics and the link between sex and music, political and social commentary (Native American issues in particular), romance, loneliness, globalization and the cons of fame and Hollywood, poverty, alcohol, and dealing with death.