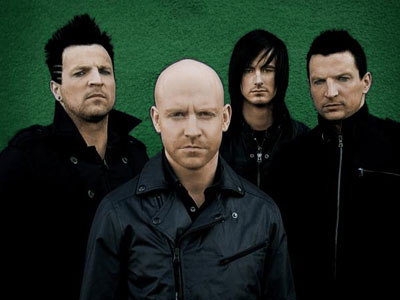 Red (also stylized R3D or RED) is an American rock band from Nashville, Tennessee, formed in 2004. The band's lineup consists of singer Michael Barnes, guitarist Anthony Armstrong, and bassist Randy Armstrong. They are known for their Christian rock music which incorporates other sounds such as alternative rock, alternative metal, hard rock, heavy metal and post-grunge. Jasen Rauch and Andrew Hendrix were the rhythm guitarist and drummer, respectively, at the time of the band's formation. Hendrix was replaced by Hayden Lamb in 2006, who was then replaced by Joe Rickard, who left in 2014. Though Rauch left the band in 2009, he still contributes to songwriting. To date, Red has released five studio albums: End of Silence (2006), Innocence & Instinct (2009), Until We Have Faces (2011), Release the Panic (2013), and Of Beauty and Rage (2015). The first two albums earned the group Grammy Award Nominations for Best Rock Gospel Album while Until We Have Faces had a No. 2 debut on Billboard 200.

Red was formed by twin brothers, guitarist Anthony and bassist Randy Armstrong, lead vocalist Michael Barnes, drummer Andrew Hendrix, and guitarist Jasen Rauch. According to the End of Silence album booklet, Rauch was the band's primary composer. Enlisting the talents of Grammy-nominated and Dove award-winning rock producer, Rob Graves, Red signed a development contract with Graves' independent production company. After recording several demo songs, the band was quickly signed by Sony BMG imprint, Essential Records. Hendrix parted ways with the band and after an extended search, the band chose Hayden Lamb (twin brother of former Paramore guitarist, Hunter Lamb) as his replacement on drums. As a result of his successful early work with Red, Graves was chosen to produce the band's debut album End of Silence. When asked if they are a "Christian band," Anthony Armstrong states, "We always like to call ourselves a Christian band because that's what we are. If they ask us if we're a Christian band, we tell them yes. And if they ask us why, we tell them why." In an interview on Always Acoustic, Jasen Rauch talks about the meaning of the band name, Red. He states that it's really not short for anything; it's just Red. He gives credit to Hendrix for the name. The band is well known for their fiery and energetic live shows, performing an impressive 2000+ concerts since End of Silence was released. They have sold more than 700,000 copies of End of Silence and Innocence & Instinct combined. Red occasionally offers Acoustic Experience tickets, in which fans are allowed an opportunity to hang out with the band aboard the tour bus with them and hear an acoustic song before the main show.

The band's debut album End of Silence was released in 2006, and was nominated for a Grammy Award in the category of Best Rock Gospel Album at the 49th Grammy Awards. The album's first single, "Breathe Into Me," peaked at No. 15 on the U.S. Mainstream Rock chart and won the "Rock Recorded Song of the Year" award at the 38th annual GMA Dove Awards in 2007. The music video is set to photographs in a film lab, where the band plays. "Breathe Into Me" also broke the top ten on Active Rock charts. Throughout 2007 Red toured with Three Days Grace, Breaking Benjamin, and Candlebox. On November 27, Red's van and trailer crashed on Interstate 24. There was major damage to the vehicles involved, and former drummer Hayden Lamb suffered injuries to his shoulder that forced him to sit out on their headlining tour. Red was voted for the best rock recorded song "Lost" at the 40th Annual GMA Dove Awards. The song "Let Go" was featured in the Activision video game Baja 1000. The song "Pieces" was featured in the trailer for The Blind Side.

The band's second album, Innocence & Instinct, was released on February 10, 2009 and debuted on the Billboard 200 chart at No. 15 selling 39,000 copies in its first week. The album peaked higher on the charts than the band's previous album and has received overwhelmingly positive reviews from critics. The album also peaked at No. 5 in its first week of release on iTunes overall top albums chart. The album features 10 songs, including the first rock radio single, "Death of Me". The Deluxe Edition was released the same day, featuring 4 additional tracks: Including "Forever", the "Death of Me" music video, photo gallery and a behind-the-scenes "Making of Innocence & Instinct" video documentary. The track "Shadows" was co-written by Benjamin Burnley. Red made Radio & Records history as the first band in Christian rock history to have a song debut at No. 1 when the band's single "Fight Inside" was released in November 2008. For the album, an alternate reality game was orchestrated by the band members. Red fans went through hidden web pages and passwords until around the time the album itself was released, when the final page was revealed, which contained a video message from the band itself, nine "treasures" (including posters, videos, and an unreleased track), and a message telling the puzzle participants not to post the contents on the Internet or share them. The album was inspired by a car crash involving the band where their van and trailer of gear were rolled over on a highway. Lamb was injured in the crash, leading to his departure from the band. Lamb was replaced with Joe Rickard; a friend and drum tech of Lamb's who was looking for another band to play in after leaving his previous group The Wedding. Rickard was only a touring and studio drummer up to this point in his career with Red, but was recently made an official member of the band. The meaning behind Red's video, "Death of Me", is explained by Randy in an interview with NewReleaseTuesday.com: "We used (the) twins (and a double of vocalist Michael Barnes) to symbolize two opposing forces in the video, 'Death of Me.' In it, we see the positive side of things being chased by the negative side of things, and in the end there's a battle. The battle doesn't seem to resolve itself in the video. That's because we will face struggles in our lives, even though we do find resolve in certain situations." Red unveiled their new site on September 24 which they now use as their main hub in connecting with the fans. Coinciding with the release of their new site, Red released the music video for their new single, "Forever", which was made using clips from their tour much like the video for "Let Go." Soon after the band announced in a podcast on Kyte.com that Joe is a member of Red and Hayden will not be returning due to the injuries sustained from the car crash. Red also announced soon after that Jasen Rauch would not be a touring member of the band anymore due to needing to spend more time with his family. Rauch would still be part of Red and continue to write for Red as well. There would be no replacement. The band embarked on tour with Saving Abel, Pop Evil, and Taddy Porter on the Class of 2009 Tour. On their website the band announced that they will be touring with Pillar and The Wedding on their new tour "Nothing and Everything" Tour which started in January 2010. In March the band toured with Breaking Benjamin, Thousand Foot Krutch and Chevelle. The band announced an April and May tour with Skillet and The Letter Black which was called the Awake and Alive Tour part two; a continuation of Skillet's headlining 2009 tour. Red won "Rock Album of the Year" for Innocence & Instinct at the 2010 Dove Awards. Their music video for "Ordinary World" came out on July 6, 2010 on iTunes. They were scheduled to open for a few dates of Creed's 2010 summer tour. They also scheduled to headline a few dates with 12 Stones starting July 13, 2010. Red announced their second leg part of their Nothing and Everything Tour featuring Disciple, Brian Welch, and Silverline.

Until We Have Faces was released February 1, 2011. The band released a teaser video on Facebook via YouTube which featured the band name on a sheet of parchment, which burned away, revealing the album title. Vocalist Michael Barnes stated on his Facebook page that the new album would be produced by Rob Graves, who also produced the first two albums. A picture was posted on producer Rob Graves's Twitter account showing three guitars with tape on them showing tunings of A#, A, and G#, which hinted that this record may be heavier than the previous two. Also, videos are displayed from the making of the record on Red's YouTube, Facebook, and website. Christian Book Distributors released a partial track listing on their official website. As part of the preliminary hype for the album, Red asked fans to send photos of their faces to the band. On December 9, codes were given to all fans that sent in pictures of their faces to download an MP3 for the song "Feed the Machine". On January 6, 2011, the new Red website was unveiled. The fan photos were used to create a mosaic poster. Red appeared on Conan O'Brien on February 8, 2011, as their first ever live television performance and appeared on The Tonight Show on February 16, 2011. The album also debuted at No. 2 on the billboard list. "Feed the Machine" started to be added to Active Rock Radio stations in mid-February. Until We Have Faces has sold more than 100,000 copies. "Start Again" won the award for Best Rock Recorded Song of the Year at the 2011 GMA Dove Awards. Red was a part of the 2011 WinterJam lineup which started up in January. They joined Union Entertainment label-mates Hinder on their All American Nightmare Tour which kicked off on May 10, 2011. On June 5, 2011 they started their Kill Th3 Machin3 Tour with Oh No Fiasco, Taddy Porter, Red Jumpsuit Apparatus and Evans Blue. In September 2011 they went on the "Rock Allegiance Tour" with Buckcherry, Papa Roach, Puddle of Mudd, P.O.D., Crossfade and Drive A. They hit the road immediately after this to start their second leg of the Kill Th3 Machin3 Tour, with Brian "Head" Welch, Echoes the Fall and Icon for Hire. The tour ended in Atlanta, Georgia on October 26. RED is finishing the WinterJam 2011 WEST COAST in November and will participate in Christmas Rock Night. Red was also the first band to ever enter Loudwire's Cage Match Hall of Fame, beating bands like Skillet, Seether, and Nickelback. In February and March 2012 they were on "The Redvolution" tour with Thousand Foot Krutch, Manafest, Nine Lashes, and Kiros. Red announced a European Tour in April 2012.

On July 10, 2012, Red posted that a new album would be in the works. The album was produced by Howard Benson, and was released on February 5, 2013. The post said that fans would hear a new song from the album before the end of the year. On September 17, 2012, Red posted a YouTube video on their website with the release date of February 5, 2013. Jesusfreakhideout.com published that the new album would be called Release the Panic and confirmed the February 5, 2013 release date. A teaser for the album, "Release the Panic", was released on November 9, 2012. Red also participated in the WinterJam 2013 Tour Spectacular along with artists TobyMac, Matthew West, and others. Alongside Release the Panic, Red released an anthology titled Who We Are: The Red Anthology on the same day. The album debuted on the U.S. Billboard 200 chart at No. 7, with first week sales of around 41,000. Joe Rickard performed his final concert with the band on January 26, 2014 and is currently preforming with Manafest as his touring drummer. He finished the remix album Release the Panic: Re-Calibrated. Since then, Dan Johnson of the band Love and Death joined as a touring drummer. The remix album titled Release the Panic: Re-Calibrated features six songs from Release the Panic that "now have RED's signature strings, orchestrations, and other new elements added to the original tracks..." The album also includes a track that wasn't featured on the original album. It was released on April 29, 2014.

During an acoustic set in January, the band announced that they will be heading back in the studio to record their fifth studio album as soon as they're finished touring. This time, they will be working with Rob Graves, who produced their first three albums. Rob Graves has also posted photos on his Instagram account recently that confirm this announcement. The band announced that the album, Of Beauty and Rage, was released on February 24, 2015 accompanied by a full-length graphic novel inspired by their music.