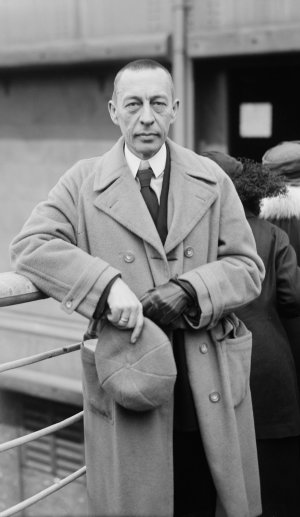 Sergei Rachmaninov composed in much the same strongly dramatic, Romantic manner as his great Russian predecessor Tchaikovsky. Living on well into the 20th century, this made him a musical conservative. But as music lovers became increasingly bewildered by the music of such contemporaries as Bartók, Schoenberg, and Stravinsky, they turned with relief and pleasure to Rachmaninov's unashamed Romanticism.
Rachmaninov was born 1 April, 1873 in Semyonovo, Russia to impoverished Russian aristocrats. He studied music at both the St Petersburg and Moscow conservatories. As a young man, Rachmaninov quickly made a mark for himself as a composer, conductor, and pianist in the musical circles of late 19th-century Russia.
Fellow Russian composer Igor Stravinsky later described Rachmaninov as a "six and half foot scowl". Indeed, Rachmaninov was very tall, and in public, at any rate, he did maintain a somewhat severe and inscrutable expression. Privately, however, he showed a completely different side of his nature. Those who knew him well reported on his hearty laugh, infectious sense of humour, and his fondness for good food and wine. The young Rachmaninov also enjoyed the outdoors, especially the countryside around the family house at Ivanovka, southeast of Moscow. A devoted husband and father, he had a great zest for life: He was one of the first people in Russian to own and drive a car. Later, after he had left Russia, he bought a motorboat, which he drove at high speed on a lake close to his Swiss home (and then warned his friends not to tell his wife!).
A superb pianist, he also wrote brilliantly for both the piano and orchestra. Part of Rachmaninov's fame and brilliance as a pianist can be attributed to his unusually large hands, with their very long fingers and thumbs. He could stretch his hands and fingers further across the keyboard than practically any other pianist. Much of his own piano music, known for its big chords and rapid, glittering runs up and down the keyboard, echoes this unique physical ability. All these qualities of styles, mood, and technical mastery combined to make Rachmaninov one of the most popular among the great composers.
With his Prelude in C-sharp Minor, written at the age of 19, Rachmaninov became famous almost overnight. The piano piece also established the general styles and mood of his music: rather dark, melancholy, and brooding. In 1897 Rachmaninov's First Symphony premiered disastrously and Rachmaninov fell into a deep depression. Unable to compose for nearly three years, the composer consulted Dr Dahl, a pioneer Moscow hypnotherapist. His therapist succeeded in restoring Rachmaninov's self-confidence, and the result was the most successful and much-loved Piano Concerto No.2 in 1900 (which he dedicated to Dr. Dahl).
Rachmaninov conducted at Moscow's Bolshoi Opera from 1904 to 1906. The abortive Russian revolution of January 1905 broke out in the middle of Rachmaninov's tenure as music director of the Bolshoi Opera. He had to contend with continual political agitation from members of staff caught up in the general revolutionary fervour, a strike by the dancers, a particularly high level of opera house intrigue, and artistic demands even more outrageous than usual. Not surprisingly, Rachmaninov felt the need to get away from it all. He resigned from the Bolshoi and took his family abroad to Dresden in Germany. He refused all performing engagements and concentrated on composition.
In 1909, he toured America, during which time he wrote the Third Piano Concerto. He was well received and was invited to remain in the States. However, he chose to return to Moscow for a few more years. He had already written some of his best works when, at the age of 44, his career was seriously disrupted by the Russian Bolshevik Revolution of 1917. The Revolution forced him, his wife, and his two daughters to escape into exile. He was forced to start his career over as a concert pianist, dividing his time between Europe and America, where he composed and gave concert tours. Fortunately, his brilliance brought him fresh fame and success internationally. If anything, the long years in exile and the aching nostalgia he felt for his Russian homeland added a depth and strength to his music that made it more effective. Rachmaninov remained in exile for the rest of his life, eventually making his home in the US.
Rachmaninov died at his home in Beverly Hills, California on 28 March, 1943.