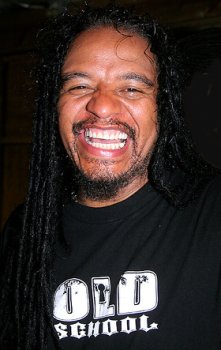 Maxi Priest (born Max Alfred Elliott, 10 June 1960, Lewisham, London) is a reggae singer and songwriter from England.
Of Jamaican descent, and the second youngest of nine children, Priest was born in Lewisham. Maxi's parents moved to London, England from Jamaica to provide more opportunity for their family. Maxi grew up listening to gospel, reggae, R&B, and pop music. He is known as the 'King of Lovers Rock'. His music is sometimes closer to R&B, and pop, than to reggae music itself.
His first major album was the self-titled Maxi Priest (1988) which, along with his cover of Cat Stevens' "Wild World", established him as one of the top British reggae singers.
This internationally acclaimed vocalist is one of only 2 UK reggae acts (other being UB40) to score an American Billboard Number One. That was with the song entitled "Close to You", which was released in 1990. In addition, a duet with Roberta Flack - "Set the Night to Music" - also reached the U.S. Top Ten in 1991.
In the latter half of his lengthy recording career, Priest has favoured working alongside other artists, both established and up-and-coming. He has worked with Sly & Robbie, Shaggy, Beres Hammond, Jazzie B, Apache Indian, Roberta Flack and Shabba Ranks.