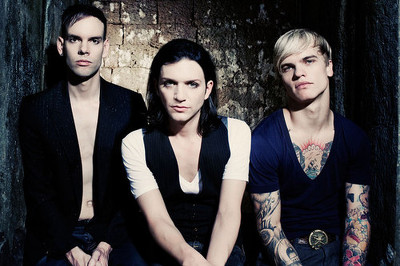 Placebo are an English alternative rock band, formed in London in 1994 by singer-guitarist Brian Molko and guitarist-bassist Stefan Olsdal. The band were soon joined by drummer Robert Schultzberg, who was replaced in 1996 by Steve Hewitt. Hewitt was fired from the band in 2007 and replaced by Steve Forrest in 2008, who left in 2015. Placebo are known for their androgynous image and musical content. To date, they have released seven studio albums, all of which have reached the top 20 in the United Kingdom, and have sold around 11 million records worldwide.

Despite initially being considered a glam rock act, Placebo's music developed throughout their career, adopting diverse elements from other genres. Besides the alternative rock and glam rock classifications, critics have described the band as "goth-rock", Britpop, post-punk revival, electronic rock, experimental rock and industrial rock. Progressive rock elements in the band's earlier works along with grunge and punk rock influences were also noted.

Placebo's influences include David Bowie, Sonic Youth, The Cure, Pixies, The Smashing Pumpkins, Nirvana, The Smiths, Joy Division, Echo & the Bunnymen, PJ Harvey, The Chameleons, Depeche Mode and Nine Inch Nails.

Lyrically, Placebo's music contains many references to drugs and LGBT themes. The title of the song "Special K", for instance, is slang for ketamine. Molko has been open about his use of recreational drugs: in a 1997 interview with Kerrang! magazine he admitted that heroin was "probably the only drug on this planet I haven't tried". However, he later admitted to using heroin as well. Pharmaceutical drugs are also referenced, as evidenced by the band's name as well as the album Meds and its title track. Outsider themes are also explored, as evidenced in lyrics such as "the back of the class is where I'm from" on "One of a Kind" and "I'm forever black-eyed/A product of a broken home" on "Black-Eyed". Molko has been quoted as calling the band "for outsiders, by outsiders".