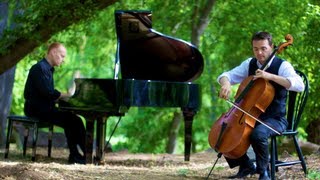 The Piano Guys are an American musical group consisting of Jon Schmidt, Steven Sharp Nelson, Paul Anderson, and Al van der Beek. They gained popularity through YouTube, where they posted piano and cello renditions of popular songs and classical music. Schmidt and Nelson's music is accompanied by professional-quality videos shot and edited by Paul Anderson and formerly by Tel Stewart. Their first four major-label albums The Piano Guys, The Piano Guys 2, A Family Christmas, and Wonders each reached number one on the Billboard New Age Albums and Classical Albums charts. The Piano Guys' newest album Wonders was released on October 7, 2014.

Paul Anderson owned a piano shop in St. George, Utah. He met musician Jon Schmidt as the latter walked in to ask if he could practice there for an upcoming concert. Months later, Paul Anderson and Tel Stewart (then just for fun) started making videos together with Jon Schmidt. It was not too long after that they did their first collaboration with Jon Schmidt, Steven Sharp Nelson, and Al Van Der Beek as the studio and music technician. After the five of them started collaborating the group really started to take off, producing a music video each week and posting it to YouTube.

Several of the group's YouTube videos have over 20 million views, while all of them have over 750,000. As of October 2014, The Piano Guys' YouTube channel had more than half a billion total video views and over three million subscribers. In June 2011, The Piano Guys won the "Most Up-and-Coming Channel" award in the YouTube "On the Rise" contest with "Michael Meets Mozart" with Jon Schmidt and Steven Sharp Nelson.

In September 2012, it was announced that the Piano Guys had been signed by Sony. This resulted in a worldwide release of the album The Piano Guys, followed in 2013 by The Piano Guys 2, and Wonders in 2014.