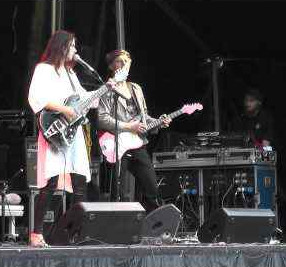 Kira Skov aka Kira is a Danish rock vocalist and as also the lead singer of Kira & The Kindred Spirits/Kira and the Kindred Spirits. Kira left her home in Copenhagen at the age of 17 to pursue her dream of playing in a rock'n'roll band.

She found at first a man, then a band and the source of much joy, but mostly trouble, in the foreign lands of which she traveled like a modern day gypsy. Her journey led her through many parts of the world, but for many years her base was in London and L.A.

It wasn't however, until the break-up of her first band, where her former patner primarily provided the songs, that she seriously dived in to the therapeutic process of writing on her own. Drawing from her experiences of relationships and her life on the road, she created a musical world, of deeply personal songs, with a rough edge and moody tales, in a style which she her self labeled "soul punk", since none of the obvious categories fit.

After 8 years away from home, Kira returned to Copenhagen, put a band together (myspace/kiraandthekindredspirits) and released her first album ("Happiness saves lives") in 2002. Five years on, she has released 5 albums in Denmark.

One of them being with her side-project The Gospel, co-written and produced by Tore Johansson (Franz Ferdinand, Cardigans est.), who also produced two albums with her previous band.

"This is not an exit" and "Kira and the Kindred Spirits". Throughout this period, she has played more than 300 concerts, to great critical acclaim in Denmark as well as abroad. In 2007 she received a Grammy in Denmark for "Best female Vocalist", as well as receiving an award from Denmark's largest music-magazine Gaffa, voted by their readers.