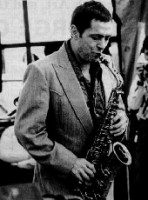 Art Pepper
1 September 1925, Gardena, Los Angeles, California, USA, d. 15 June 1982, Panorama City, California, USA. Pepper started out on clarinet at the age of nine, switching to alto saxophone four years later. After appearing in school groups, he first played professionally with Gus Arnheim's band. During his mid-teens he developed his jazz style sitting in with otherwise all-black bands along Los Angeles' Central Avenue. After leaving Arnheim he worked with Dexter Gordon in Lee Young's band at the Club Alabam. He then joined Benny Carter, playing alongside artists such as Gerald Wilson, Freddie Webster and J.J. Johnson. In 1943 Pepper joined Stan Kenton but soon afterwards was drafted into the US Army, spending most of his wartime service in England.
In 1946 Pepper rejoined Kenton, staying with the band until 1951. That year he also recorded with Shorty Rogers, playing a marvellous version of "Over The Rainbow', a tune he would regularly play over the years. Later, he appeared on Rogers" Cool And Crazy album. Pepper subsequently freelanced around Los Angeles, performing many record dates, some under his own name, and usually playing extremely well. Nevertheless, his career in the 50s and 60s was marred by his drug addiction and interrupted by several prison sentences. At the end of the 60s Pepper began a slow, uphill fight against his addiction, a struggle that was eventually successful and heralded his re-emergence in the mid-70s as a major figure on the international jazz scene. In the last years of his life, he produced a rich crop of recordings, including Winter Moon, an album with strings (a long-held ambition of Pepper's), the three-album set Live At The Village Vanguard (a fourth volume appeared posthumously) and two records recorded live in London under the name of pianist Milcho Leviev, Blues For The Fisherman and True Blues.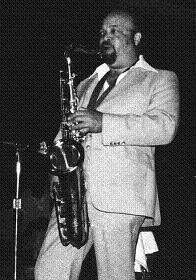 Early in his career Pepper played with a light airy tone, through which burned a rare intensity of emotion that reflected his admiration for Charlie Parker and the lessons he learned playing with Carter. After his rehabilitation and a period playing tenor saxophone, on which instrument he showed both the influence of Lester Young and an awareness of John Coltrane, Pepper developed a strong, bop-rooted alto style that retained much of the richly melodic elements of his earlier playing. Pepper's life story was memorably recounted in his candid autobiography and a subsequent film, Art Pepper: Notes From A Jazz Survivor, which offered a potent and harshly unsentimental lesson for any young musician contemplating the use of addictive drugs.
* * *
Sonny Redd

Sonny Red (born December 17, 1932 in Detroit as Sylvester Kyner Jr.; died March 20, 1981) was an alto saxophonist associated with Hard bop. He had some success in the 1960s, but fell into obscurity by the late 1970s.
Sonny Red was a good but not great altoist who was somewhat lost in the shuffle in the 1960s and '70s. He worked in Detroit with Barry Harris (1949-1952), in 1954 temporarily switched to tenor while with Frank Rosolino, and later that year joined Art Blakey briefly. In 1957, with his arrival in New York he gained some recognition, recording with Curtis Fuller and Paul Quinichette, in addition to having several dates as a leader (1958-1962) for Savoy, Blue Note, and particularly Jazzland. Despite some freelancing and recording with Clifford Jordan, Pony Poindexter, Donald Byrd, Kenny Dorham, and Yusef Lateef among others in the 1960s, Red was in obscurity by the 1970s.