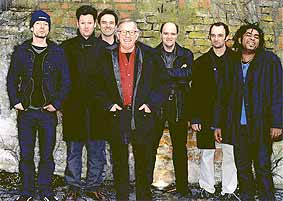 Klaus Doldinger (sax, clarinet, synthesizer), a veteran of German jazz (the Klaus Doldinger Quartet had been formed in 1962), formed Passport in 1970 in Berlin. The line-up eventually stabilized with Olaf Kubler on sax and flute, Jimmy Jackson on organ, Lother Maid on bass and Udo Lindenberg on drums. The early albums, Passport - Doldinger (1971) and Second Passport (1972), were rather academic. Handmade (1973) showed progress, at least in terms of a more personal sound, and contains Abracadabra and Handmade. Doldinger Jubilee Concert (1974) is notable because it features the addition of keyboardist Kristian Schultze to the line-up.
Looking Thru (Atlantic, 1974), possibly their masterpiece, features the classic line-up with Doldinger (now also on synthesizer), Schultze, bassist Wolfgang Schmid and drummer Curt Cress. While still rather restrained, the sound now acknowledged the Soft Machine, the Mahavishnu Orchestra, Embryo and acid-rock. The interplay between saxophone and electronic keyboards is the highlight of the title-track. Tarantula and Ready for Take Off are elegant rave-ups, while Eloquence and Things to Come have a strong psychedelic element.
The quality of production peaks on Cross-collateral (1975), a carefully assembled set of electric jams. The fusion between electronic keyboards and jazz instruments is almost baroque in Homunculus and Albatross Song. The style and mood run the gamut from funk (Jadoo) to soul (Damals). The 13-minute Cross-collateral is both a display of technical prowess and a smooth melodic fantasia.
Infinity Machine (1976), another impressive collection, adds a spiritual touch to the proceedings (Blue Aura, Ostinato Contemplation), while the tight playing and the lyrical production keep the music beyond the standards of jazz-rock (Morning Sun). At the same time, the longest jam, Ju Ju Man, shows an even stronger funk element.
Funk and world-music prevail on Iguacu (1977), which thus marks an abrupt change of direction. The influence of Embryo is a mixed blessing, as the torrential rhythms and dance grooves detract from the lyrical moments of the previous two albums (partially salvaged in the less "worldly" Iguacu).
This was the beginning of the decadence, through albums that became more and more predictable: Ataraxia (1978), Garden Of Eden (1979), with Gates of Paradise, Lifelike (1980), Oceanliner (1980), Blue Tattoo (1981), Earthborn (1982), Man In The Mirror (1983), Running In Real Time (1985), Heavy Nights (1986), Talk Back (1988), Balance Of Happiness (1990), Blues Roots (1991), Passport to Paradise (1996).
Doldinger also released the solo album Streets of Dreams (1994) and written film music (including the score for Das Boot in 1981).
Kristian Schultze released the cosmic music of New Expedition Extra (IRS, 1983) (Erdenklang, 1988) and the trivial pop-jazz of Metronomics (IRS, 1987). He also formed Vox, an ensemble devoted to medieval electronic music on Diadema - Hildegard Von Bingen (Erdenklang, 1990) and From Spain To Spain (Erdenklang, 1992).