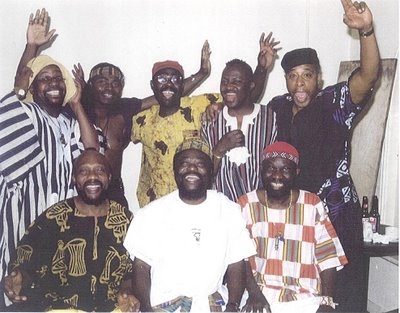 Osibisa is a band, founded in London in the year 1969 by four African and three Caribbean musicians, who peaked in popularity in the 1970s.
Founding members included Ghanaians Teddy Osei (saxophone), Sol Amarfio (drums) and Mac Tontoh (trumpet); Grenadian Spartacus R (bass); Trinidadian Robert Bailey (keyboard); Antiguan Wendell Richardson (lead guitar); and Nigerian Lasisi Amao (percussionist and tenor saxophone).
Ghanaians Darko Adams Potato (died 1995) and Kiki Djan (died 2004) have also been members of the band.
Osibisa describes itself as the godfathers of world music, claiming to have paved the way for more famous musicians like Bob Marley, who became popular in the mid-1970s. Their music is described as a fusion of African, Caribbean, jazz, rock, Latin and R&B.
Many of Osibisa's works are highly danceable. A fair comparison would be to Earth, Wind, & Fire from the USA only with a "world" flair. Both groups feature highly complicated and sophisticated dance music with Afro-Caribbean bass-drum grooves and dynamic horn charts. (example: Ojah Awake) Both groups could be criticized as "insipid disco" on titles which seek a more commercial appeal. (example:Dance the Body Music,Lets Do It).
The name Osibisa was actually described by the band members to mean "criss cross rhythms that explode with happiness". They also classified their music as "Afro Rock". The band went through many incarnations with the founder members Teddy Osei, Mac Tontoh and Sol Amafio being the only original members that stayed with most incarnations. They originally favoured instrumentals which were heavily interlaced with African chants and percussions as well as a well organized horn section featuring Tedi Osei and MacTontoh, all this underpinned with an aggressive bass line. Their style influenced many of the emerging African musicians of the time.