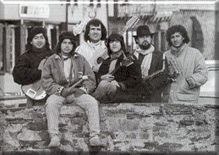 A long-standing group formed by Marcelo Velis, Daniel Valladares and Rodrigo Fernandez all hailing from Santiago in Chile. Although the group has released various albums to date their self-titled work, published in 2000 by Warner Strategic Marketing, would be of most interest to Enigmatic fans.
The three incorporate acoustic guitar, flute and keyboards with their Spanish singing and light rhythms. However what elevates this album is the involvement on some tracks of the Huara Choir who lend an inspiring and joyous air, at times reminiscent of Era.
The majority of the songs are composed by Velis, and some are co-written by Valladares and Jan Peter Odendahl. Unfortunately the album can be a rather hit-and-miss affair with standout tracks like Sur azul (the opening song that introduces us to a dark and mysterious atmsophere), Ilumbarada and the large choral sounds of Ayemé interspersed with pieces that are more romantic and less-focused.
Hopefully in the future Ortiga will feature more of their darker, choir-orientated sound than they did this time round.