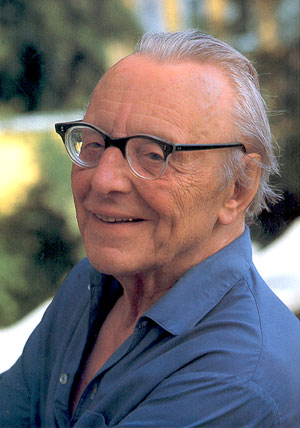 Carl Orff was born 10 July, 1895 in Munich, Germany - the son of a soldier. Orff's earliest inspiration was his mother, Paula, who was a talented pianist. Orff's lifelong interest in the theatre can also be traced to his childhood. After visiting a marionette theatre, he staged puppet plays accompanied by dramatic musical effects, including thunder produced on the kitchen stove.
In 1912 having already published several songs and written an opera, Orff joined the Munich Academy of Music. Although he remained to graduate in 1914, he soon lost patience with the academic approach to music. Orff subscribed to the idea that music should please, and, in the broadest sense, be good for the health. Two things particularly interested him and influenced most of his own work: One was the role of music in education and physical recreation. The other was the part played by music in entertainment through the ages, back to the days of ancient Greek and Roman drama.
Orff's interest in stage music drew him to medieval and Renaissance music - that of Palestrina, Lassus, Gabrieli, and above all, Claudio Monteverdi, one of the first great music dramatists. Orff adapted three works by Monteverdi, including the opera L'Orfeo, which he reworked many times, while keeping the original instrumentation. It was this fascination with early music and his love of spectacle and theatre that later inspired Carmina Burana ('Songs of Beuron').
Carmina Burana originated from a collection of about two hundred medieval songs and poems discovered in 1803 in the library of the Benedictine monastery of Beuron, near Munich. Written by monks and minstrels, the collection appealed to Orff because of the variety of its humorous, sad, and suggestive verses. He selected about twenty featuring the wheel of fortune and arranged them into bawdy songs for soloists and chorus, accompanied by instruments and magic images.
Carmina Burana forms the first part of a trilogy of staged cantatas called Trionfi ('Triumphs'), all based on Latin texts. The other two parts are Catulli Carmina and Trionfo di Afrodite. The first performance, in 1937, was a stylistic breakthrough, and brought Orff instant fame.
In 1924 Orff and dance teacher Dorothee Günther set up the Günther School in Munich for the musical education of young women. However, in 1944 the school was closed down by the Nazis. Four years later, a chance broadcast of an early recording of his dance music led to a revival of Orff's methods throughout Germany, and led to a pioneering series of radio broadcasts on music for children.Orff's work with children through Orff Schulwerk began shortly after this. The program was designed to teach new relationships between music and movement. Orff believed that a child's innate musical ability could be encouraged through the use of simple percussive and plucked string instruments. Now his approach has been adopted in many other countries.
In 1930, Orff was appointed the conductor of the Munich Bach Society. He remained in Germany through the years of Nazi rule, from 1933 to 1945. In general, the Nazis approved of his music, because it was relatively conservative, it was popular, and it lifted people's spirits. But Orff had been pursuing his own lines of thought long before the Nazis came to power, and he continued working and thinking in much the same way after they had gone. He spent much of his time teaching composition, at home and abroad. In 1950 he was appointed professor of composition at Munich High School for Music, and in 1961 the Orff Institute was founded in Salzburg, providing courses for music teachers.
For those who find 20th century music difficult to understand or enjoy, one of Carl Orff's works, such as Carmina Burana, could be the answer. Typical of much of his music, it takes its cue from the music of the past. Orff's melodies and harmonies are generally plain and simple and supported by passionate, fresh rhythms. Moreover, most of his music is written for the stage, with action and spectacle to attract the eye as well as the ear - it is music with mass appeal.
Carl Orff died in Munich on 29 March, 1982.
Katya Gifford - Humanities Web