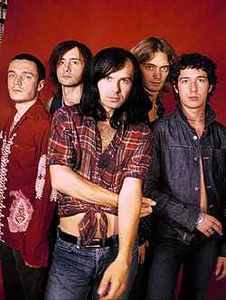 Okean Elzy is the most famous and most decorated Ukrainian rock band. Okean Elzy has been recognized many times as the best rock-and live-band of the CIS by their admirers and music critics. The band vividly express themselves through in-depth lyrics, a unique musical style, and an impressive on-stage drive and energy.

Okean Elzy's records always resonate with their listeners and become an event not only for music lovers in Ukraine, but for the community as a whole.

Further afield, Okean Elzy has one of the highest popularity ratings not only in Ukraine but also the love of many fans from Russia and other countries, which is quite phenomenal for a Ukrainian group, considering that all the lyrics are written in Ukrainian. Their solo concerts, the cornerstone of which is always the genuine live sound, are always powerful. With its musical drive, combination of Ukrainian poetry, of Slavic melodies and powerful European sound, Okean Elzy break down linguistic barriers and conquer listeners irrespective of geography. Their previous most wide scale concert tour in 2006 was a massive success playing to audiences in North America, Western Europe and Russia. In 2010 Okean Elzy went for another worldwide tour supporting "Dolce Vita" album.


1989-...

The band was formed in Lviv in 1994. And in 1996, the band performs at one of the European festivals on the same stage with the legendary «Deep Purple».

In September 1998 came the first video of the song "Tam de nas nema". By that time the video of young musicians became something new and fresh, causing a lot of discussions. It is the first time when Ukrainian video is shown on MTV-Russia and the France's MCM channels. Soon after that the band's videos become those that are permanently shown on all of the Ukrainian and Russian music TV channels.

Their debut album "Tam de nas nema" comes out in late 1998. It brings OE success, which does not leave the musicians even today.

Starting from May 1999 Okean Elzy becomes permanent member of large-scale Russian festivals. Right after their first performance in May 1999 on Maxidrom festival band becomes the headliners of all these festivals.

On February 21, 2000 the second band's album "Yananebibuv" was out under two labels simultaneously - Ukrainian Nova Records and Moscow Real Records.

The third studio album, "Model" was out in spring 2001. It started with a large-scale tour "Vimagai Bil'shogo".

Work on the fourth studio album, "Supersymetriya" was completed in early 2003. Large-scale tour in support of this album was held the same year. In October, Okean Elzy made at the "Prosto Rock" festival, and in December launched another solo tour - this time an acoustic one.

Okean Elzy became record-holder and the undisputed leader of the Ukrainian music world. Everything they do is a breakthrough. September 22, 2005 the new album «GLORIA» was out. It became platinum in first hours of sale.

The sixth album "Mira" was out in April 2007. It was sold 170 thousand CDs by reservation only on the day of release, which provided "Platinum" status for the second band's album. As a part of Ukrainian concert tour in support of "Mira" album the band visited 27 cities of Ukraine, which gathered more than 140,000 audiences. Only 2 Kiev concerts gathered more than 24,000 fans!

Within 15 years of their existence guys have gathered a collection of awards. Almost every year have been entitled to the style of the best music band: in 2006 - in three categories of expert Prize ShowBizAwards: "Best Rock band of the Year", "Album of the Year", "Performing musician of the Year", in January 2000 - four statuettes Ukrainian Rock Awards. April 2007 - Expert FUZZ Music Award "Best Rock band" and "Best live-band", in the CIS.

In August 2009 the song "Drug" subsequent to the results of national vote on the most popular music channel has been recognized as the best song in the country in the entire history of independent Ukraine.

In November 2009, new album's first single – "Ya tak hochu" was presented. During the first week of it's rotation the song gives a jump to the first positions of the charts both in Ukraine and in Russia.

In early spring of 2010 Okean Elzy presented their new album «Dolce Vita» and began their wide-ranging Dolce Vita tour that lasted for a year covering Ukraine, Russia, Western Europe and America.