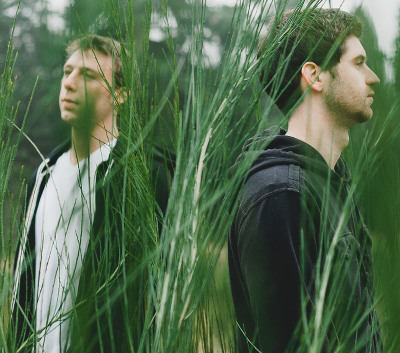 Odesza (stylized as ODESZA) are an American electronic music duo from Seattle consisting of Harrison Mills (CatacombKid) and Clayton Knight (BeachesBeaches). The group was formed in 2012 shortly before Mills and Knight graduated from Western Washington University. Their debut album, Summer's Gone, was released in 2012 to much acclaim in the underground electronic music community. Odesza followed Summer's Gone with their first EP, My Friends Never Die, in 2013 and their second LP, In Return, in 2014. The duo released In Return (Deluxe Edition) on September 18, 2015 via Counter Records, an extended version of the original album plus three live recordings all featuring a horn section, instrumentals, and a new track "Light (feat. Little Dragon)".

Harrison Mills and Clayton Knight met during their freshman year at Western Washington University. The two did not share the same educational interests. Knight studied physics and math while Mills studied graphic design. They did not begin collaborating musically until their senior year in 2012. As a child, Knight was classically trained in piano and later learned guitar. The duo quickly released their debut LP, Summer's Gone, on September 5 later that year. On November 9, 2012, ODESZA performed their first show, opening for Teen Daze and Beat Connection in Bellingham, WA. They soon hit 1 million Soundcloud plays before their debut EP, My Friends Never Die, was released a year later. ODESZA was booked to open for Pretty Lights on his Analog Future Tour in the fall of 2013. Their first headline tour kicked off on March 12, 2014. ODESZA hit 30 million Soundcloud plays on October 1, 2014. On October 17, 2014, ODESZA's In Return North American tour sold out 28 shows. Twenty-four ODESZA tracks have hit #1 on Hype Machine, including "How Did I Get Here", "Memories That You Call", "Lights", "All We Need (Autograf Remix)", among others. Their first festival performance at Sasquatch! Music Festival in George, WA was followed by slots at over 20 festivals, including the following: Coachella, SXSW, Hangout Festival, Lightning In A Bottle, Governor's Ball Music Festival, Bonnaroo Music Festival, Firefly Music Festival, Free Press Summer Fest, What The Festival?!, Electric Forest Festival, Splash Festival, Montreux Jazz Festival, Skral Festival, Sea Dance Festival, Melt! Festival, WayHome Music Festival, HARD Summer Music Festival, Lollapalooza, Squamish Valley Music Festival, Outside Lands, Summer Set Music Festival, Ilesoniq Festival, Chiemsee Summer Festival, MS Dockville Festival, Pukkelpop, and Positiv Festival. Upcoming festival appearances include Mad Decent Block Party, Sun City Music Festival, Backwoods Music Festival, Fun Fun Fun Fest, and Holy Ship!. On November 11, 2015, ODESZA launched their official mobile app on iOS and Android.

Odesza is the Hungarian spelling for the city of Odessa, Ukraine. The band's name, however is taken from the name of Mills' uncle's sunken vessel. Only his uncle and one other crew mate survived. Since the spelling "Odessa" was already being used by a Scottish synth band, they instead chose to use the Hungarian spelling, replacing the "ss" with "sz".

Individually Mills is known as Catacombkid, and Knight is known as Beaches Beaches. In reference to how Mills got his nickname he says, "I got into Aesop Rock and he has a song called 'Catacomb Kids.' I thought it sounded cool." On the other hand, Knight got his nickname when, "...I was high in my bedroom making music one day…"