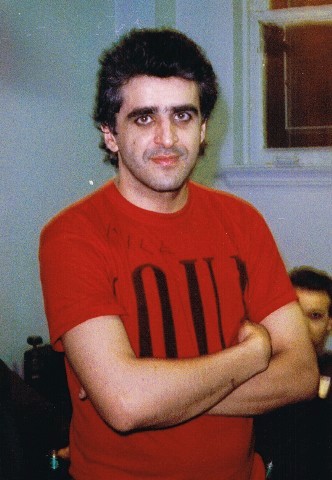 Jeremy "Jaz" Coleman (born February 26, 1960) is a musician, singer/song-writer and music producer. He is notable for his vocal contributions to post-punk/metal/industrial band Killing Joke. In addition, he was also the band's keyboardist and has composed orchestral and soundtrack pieces and produced diverse musical groups, such as Oceania.
Coleman was born in Cheltenham, England to an English father and an Indian mother who are both school teachers. He began piano and violin lessons at the age of six, and was a member of several cathedral choirs in England. He won prizes for violin throughout his teens, and in adulthood has studied opera, composition, and orchestration. According to his own account, Coleman also studied international banking for three years in Switzerland.
He is a supporter of the concept of environmental sustainability and has invested in the creation of two eco-villages in the South Pacific and in Chile. Coleman holds four passports and has residences in Prague, Switzerland, and New Zealand where he owns a recording studio. He has been married twice and has children. He claims that he has an IQ of over 190.
Coleman has studied and played music from many cultures, and is a multi-instrumentalist. He studied Arabic music at the Cairo Conservatoire and has a passion for Czech folk music and Māori music, among others. One of his Māori pieces is the "Second Symphony for Māori Voice and Orchestra". He was involved in adding a verse in the Māori language to the New Zealand national anthem; it was sung by Māori singer Hinewehi Mohi at the 1999 Rugby World Cup match, and after some controversy the verse was officially added.
Along with Anne Dudley of Art of Noise fame, in 1990 Coleman co-wrote and co-performed the middle-eastern instrumental album called "Songs From the Victorious City" (which is a reference to Cairo, Egypt). In 1995 he released his first of three albums of symphonic rock music. Us and Them: Symphonic Pink Floyd and Kashmir: The Symphonic Led Zeppelin were both written and produced by Coleman with Peter Scholes conducting the London Philharmonic Orchestra. On June 8, 2007, Coleman collaborated with over 150 youth musicians in the Contemporary Youth Orchestra, based in Cleveland, OH, to perform the entirety of Kashmir: Symphonic Led Zeppelin along with additional orchestrations of Led Zeppelin's music. In 1999 he produced and arranged an album of Doors material for orchestra, performed by classical musicians including Nigel Kennedy and the Prague Symphony Orchestra, called "Riders on the Storm: The Doors Concerto CD" (released in 2000). He has worked with the New Zealand Symphony Orchestra, who have issued a CD of his Symphony No. 1 "Idavoll", with the Auckland Philharmonia Orchestra, and as composer in residence to the Prague Symphony Orchestra. In 2002 he was commissioned by ICAM to compose a three-part concerto "Music of the Quantum", expressing the ideas of the quantum and emergence in musical form, which he co-produced with his older brother, Piers Coleman (born February 13, 1958).
In October 2006 it was announced that Coleman had been chosen as Composer in Residence for the European Union. As Composer in Residence he will be given a grant to write and perform music for the EU on special occasions.
In 2002 Coleman starred in a multiple award-winning Czech film by Petr Zelenka Rok ďábla (Year of the Devil). Switching to yet another artistic role, he has been co-directing a documentary-style music film called "The Death And Resurrection Show", named after a song on Killing Joke's 2003 album. He also appeared on the soundtrack to Disney's animated feature film Mulan (1998).