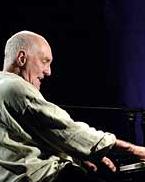 Walter Norris (b. December 27, 1931) is a pianist known primarily for his work inside the free jazz community. His playing is generally considered distinctive and uncategorizable. He played with Ornette Coleman, Charlie Mingus and the Thad Jones/Mel Lewis Big Band, and has appeared on several notable albums, such as Coleman's first album and Chet Baker's last album. Born in Little Rock, Arkansas, on December 27, 1931, Norris first studied piano at home with his mother, then with John Summers, a local church organist. His first professional performances were with the Howard Williams Band in and around Little Rock during his junior high and high school years. After graduating from high school, Norris played briefly with Mose Allison, then did a two-year tour in the US Air Force. After his time in the Air Force, Norris played with Jimmy Ford in Houston, Texas, then moved to Los Angeles where he became an integral part of the West Coast Jazz scene. While in Los Angeles, he played on Jack Sheldon's first album and on Ornette Coleman's first album, Something Else! The Music of Ornette Coleman.
In 1960, Norris relocated to New York City and formed The Trio with guitarist Billy Bean and bassist Hal Gaylor, and the group made one album. Norris took a job at the New York City Playboy Club in 1963 and in time became the club's Director of Entertainment, staying there until 1970. Between 1970 and 1974, Norris did free-lance performing and teaching in the New York area. In 1974, he replaced Roland Hanna in the Thad Jones-Mel Lewis Band. After a tour of Scandinavia, he remained in Europe to record a duo album with George Mraz, titled Drifting. Back in the states, Norris joined the Charles Mingus Quintet in 1976. In the dressing room prior to a performance, according to Norris, he made the "unforgivable mistake" of calling Mingus 'Charlie' instead of 'Charles,' which angered Mingus. At that moment, the stage manager entered the room and told the musicians they were needed onstage immediately, which provided a temporary escape from confrontation (Mingus was known for his temper and, prior to this incident with Norris, had injured trombonist Jimmy Knepper). Norris quit the band and accepted a job in Berlin, Germany, as pianist with the Sender Fries Radio Orchestra. He moved to Berlin in January of 1977 and has lived there ever since. To this day he insists that his fear of Mingus was the primary cause of the move to Europe.
In 1990, Norris signed a five-album contract with Concord Records. The resulting recordings are all significant, but especially Sunburst (with saxophonist Joe Henderson), Hues of Blues (with bassist George Mraz), and the stunning Live at Maybeck Recital Hall (solo). In 1998, without a record contract, Norris self-financed the album "From Another Star", made in New York with bassist Mike Richmond. Though the album contains some of his best work, Norris only manufactured 1000 copies. From Another Star remains, much like Mr. Norris himself, relatively unknown. In July of 2006, Norris recorded again, this time at his home in Berlin with Los Angeles bassist Putter Smith. As of this writing, the recording has not been released.Walter Norris is now the subject of a documentary film, directed by Chuck Dodson, which is scheduled for release in 2007.
From Wikipedia, the free encyclopedia