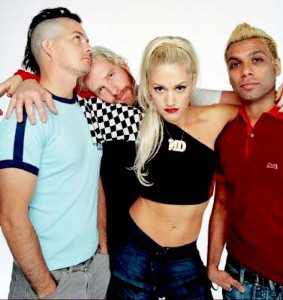 No Doubt is an American rock band from Anaheim, California, that formed in 1986. Since 1995, the group has consisted of vocalist Gwen Stefani, guitarist and keyboardist Tom Dumont, bassist and keyboardist Tony Kanal, and drummer Adrian Young. Since the mid-1990s in live performances they have been supported by trumpeter Stephen Bradley and trombonist Gabrial McNair.

The ska sound of their first album No Doubt (1992) failed to make an impact. The Beacon Street Collection (1995) is a raw expression of their sound, inspired by ska punk and released independently by the band under their own record label. The album sold over 100,000 copies in 1995, over three times as many as their first album sold. The band's diamond-certified album Tragic Kingdom (1995) helped launch the third-wave ska revival of the 1990s, and "Don't Speak", the third single from the album, set a record when it spent 16 weeks at the number one spot on the Billboard Hot 100 Airplay chart.

The group's next album, Return of Saturn (2000), despite the Top 40 hit single "Simple Kind of Life", did not match the success of their previous but received critical praise and was nominated for Best Rock Album at the 43rd Grammy Awards. Fifteen months later, the band reappeared with Rock Steady (2001), which incorporated reggae and dancehall music into their work. The album was primarily recorded in Jamaica and featured collaborations with Jamaican artists Bounty Killer, Sly and Robbie, and Lady Saw. The album produced two Grammy-winning singles, "Hey Baby" and "Underneath It All", as well as "Hella Good." On 22 November 2002, No Doubt received the Key to the City of Anaheim, given by the Mayor of Anaheim, Tom Daly in Disneyland during the band's appearance on 'Breakfast with Kevin and Bean' (KROQ-FM) where they performed five songs. After a 2004 tour the band embarked on solo projects, with Stefani releasing two successful solo albums Love. Angel. Music. Baby. (2004) and The Sweet Escape (2006) while Tom Dumont released his own solo music project, Invincible Overlord. In 2008, the band resumed working slowly on their sixth effort, titled Push and Shove (2012), and released their single "Settle Down". They have sold over 33 million albums worldwide.

No Doubt's musical style have been characterized as ska punk, reggae fusion, punk rock, pop punk, new wave, alternative rock and pop rock.

The band's debut album blended the ska punk, alternative rock and new wave genres. However, the band utilised a punk rock sound in their second album The Beacon Street Collection and their third album Tragic Kingdom, although the latter incorporated pop punk and alternative rock influences. They later shed their punk rock roots for the following album Return of Saturn, utilising influences from new wave music and pop rock.

The band completely altered their sound in their next album Rock Steady, incorporating Jamaican music influences from reggae fusion, rocksteady and dance-rock. However the band's comeback album Push and Shove blended pop rock, new wave music and dancehall.