..:: audio-music dot info ::..

Jef Neve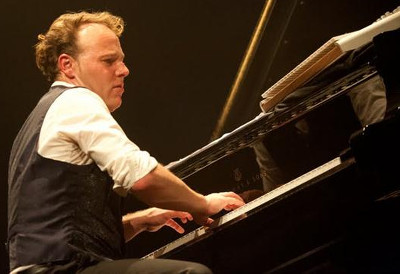 Jef Neve (born 8 March 1977) is a Belgian jazz and classical music pianist and composer. Neve was born in Turnhout, Belgium. By the age of 14 he was composing music and playing in bands. He studied jazz and classical music at the Lemmensinstituut in Leuven and graduated in 2000.

Neve wrote the soundtrack for Felix Van Groeningen's Dagen Zonder Lief. He also composed for the VRT series In Vlaamse Velden (In Flanders Fields). The pianist played on Ludovic Bource's soundtrack for The Artist.

The Guardian's reviewer of Neve's 2008 release Soul in a Picture commented that the pianist's playing contained "a very personal language, one which draws freely on classical music and – aided and abetted by Piet Verbist (bass) and Teun Verbruggen (drums) – has the impetus of jazz and rock".

An artist in residence at Turnhout's Warande and a teacher at the Stedelijke Academie voor Muziek, Jef Neve is widely regarded as one of Europe's most talented young jazz composers. Born in 1977 and classically trained at Leuven's Lemmensinstituut, the Flemish pianist has showcased his skills in everything from orchestras to funk-pop bands, but achieved his big breakthrough when he teamed up with bassist Piet Verbist and drummer Teun Verbruggen to form the Jef Neve Trio. After releasing four critically acclaimed albums and a soundtrack for Felix Van Groeningen's Dagen Zonder Lief, he recorded 2010's For All We Know with U.S. jazz/hip-hop vocalist José James.
Official site: www.jefneve.com

Nobody Is Illegal (EmArcy Records, 2006)