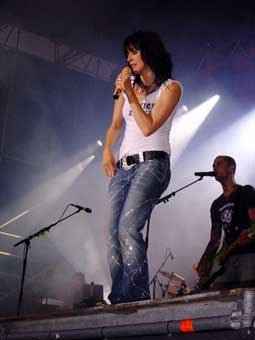 Nena (born Gabriele Susanne Kerner on March 24, 1960 in Hagen, North Rhine-Westphalia, Germany) is a singer who rose to international fame in 1984 with the New German Wave song "99 Luftballons" (German for "99 Balloons", but the English version of the song is called "99 Red Balloons"). "Nena" was also the name of the band with whom she released the song. With the re-recording and subsequent release of some of her old tracks, her career saw a second wind in 2002.
Nena acquired her nickname, "Nena", derived of the Spanish "Niña", meaning "little girl" at the age of three, while on a vacation to Spain with her parents.
Her musical career began in 1977 when guitarist Rainer Kitzmann offered her a position as the lead singer in his band, The Stripes. The group had a minor hit with the song "Ecstasy", but never achieved mainstream success, and soon disbanded.
In 1981 Nena and her boyfriend Rolf Brendel moved to West-Berlin, where they met future "Nena" band members, guitarist Carlo Karges, keyboard player Uwe Fahrenkrog-Petersen, and bass player Jürgen Dehmel. In 1982 the band, "Nena", released their first single, "Nur geträumt" ("Only dreamt"), which became an instant hit in Germany after the band appeared on the German television show "Musikladen". The single reportedly sold 40,000 copies the day after the song appeared on the show and reached number two in the German charts.
In 1983 the band released its first album "Nena", which contained the singles "Leuchtturm" ("Lighthouse") and "99 Luftballons" ("99 Balloons"). 99 Luftballons became a number-one hit in Germany in 1983, and went on to major international chart success the following year, an English version hitting number one in the UK and the original German version hitting number two in the US. It was also a huge hit in many other countries, and to this day it is one of the most well-known German rock songs in many parts of the world. While 99 Luftballons was Nena´s only hit in the Anglophonic world, the band continued to enjoy success in several European countries in the following years.
The band split in 1987, and Nena went solo hereafter. During the late 1980s and throughout the 1990s her chart-success in Germany was modest, but she has made a comeback in Germany in the 2000s with the release of new versions of some of her old hits.
In October 2007, Nena released a new album entitled "Cover Me", made up entirely of cover songs. David Bowie, Rolling Stones and Rammstein are just 3 of the bands she has covered from. She also released the single, "Ich Kann nix Dafür" ("It's Not My Fault") in April of 2007 for the film, Vollidiot. Besides her singing career, she has also voiced the character Saphira for the German dub of the movie Eragon and the role of the Princess for the German version of Arthur and the Invisibles.
From Wikipedia, the free encyclopedia