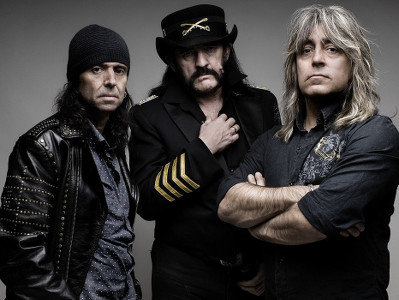 Motörhead are an English rock band formed in June 1975 by bassist, singer, and songwriter Ian Fraser Kilmister, professionally known by his stage name Lemmy, who has remained the sole constant member. The band are often considered a precursor to, or one of the earliest members of, the New Wave of British Heavy Metal, which re-energised heavy metal in the late 1970s and early 1980s. Despite this, Lemmy has always dubbed their music as simply "rock and roll".

To date, Motörhead have released twenty-one studio albums, ten live recordings, twelve compilation albums and five EPs. Usually a power trio, they had particular success in the early 1980s with several successful singles in the UK Top 40 chart. The albums Overkill, Bomber, Ace of Spades, and particularly No Sleep 'til Hammersmith, cemented Motörhead's reputation as a top-tier rock band. As of 2012, Motörhead have sold more than 15 million albums worldwide.

Motörhead are typically classified as heavy metal, and their fusion of punk rock into the genre helped to pioneer speed metal and thrash metal. Their lyrics typically cover such topics as war, good versus evil, abuse of power, promiscuous sex, substance abuse, and, most famously, gambling. The name "Motörhead" is a reference to users of the drug amphetamine. The band's distinctive fanged-face logo, with its oversized boar's tusks, chains, and spikes, was created by artist Joe Petagno in 1977 for the cover of the Motörhead album and has appeared in many variations on covers of ensuing albums. The fanged face has been referred to variously as "War-Pig" and "Snaggletooth". The band is ranked number 26 on VH1's 100 Greatest Artists of Hard Rock.

In a biography of the band, senior editor for AllMusic, Stephen Erlewine, wrote: "Motörhead's overwhelmingly loud and fast style of heavy metal was one of the most groundbreaking styles the genre had to offer in the late '70s" and though "Motörhead wasn't punk rock ... they were the first metal band to harness that energy and, in the process, they created speed metal and thrash metal." Whether they created these genres might be subject to debate, but Motörhead were unquestionably influential.

Although Mötorhead is often considered as a heavy metal band, Lemmy has always described Mötorhead's music as simply rock and roll. In 2011 he said: "We were not heavy metal. We were a rock'n'roll band. Still are. Everyone always describes us as heavy metal even when I tell them otherwise. Why won't people listen?"

Lemmy has stated that he generally feels more kinship with punk rockers than with metal bands: Motörhead had engagements with fellow Brits The Damned, with whom he played bass on a handful of late 1970s engagements, as well as having penned the song "R.A.M.O.N.E.S." as a tribute to the Ramones. Motörhead, Lemmy states, have more in common aesthetically with The Damned than Black Sabbath, and nothing whatsoever in common with Judas Priest. Lemmy says he feels little kinship with the speed metal bands Motörhead have inspired:

"They've just got the wrong bit. They think that being fast and loud is the whole thing and it isn't. The guitar solos are not really difficult for a guitar player, it's just playing scales. To feel a solo and bend into it & I mean Hendrix is the best guitarist you've ever seen in your life. And he learned from people like Buddy Guy, Lightnin' Hopkins and people like that inspired Hendrix. To be influenced by something, you're gonna have to play it the same."

The NME stated that their brief solos were just long enough "... to open another bottle of beer", while a 1977 Stereo Review commented that "they know they're like animals, and they don't want to appear any other way. In view of the many ugly frogs in heavy metal who think they are God's gift to womankind these Quasimodos even seem charming in their own way". Motörhead's approach has not changed drastically over the band's career, though this is a deliberate choice: erstwhile Motörhead drummer Phil "Philthy Animal" Taylor said that rock icons like Chuck Berry and Little Richard never drastically altered their style, and, like them, Motörhead preferred to play what they enjoyed and did best. This fondness for the first decade of rock and roll (mid-1950s to mid-1960s) is also reflected in some of Motörhead's occasional cover songs from that era.

Lemmy often plays powerchords in his basslines. When asked about whether he had begun as a rhythm guitarist, he stated:

No, I play a lot of notes, but I also play a lot of chords. And I play a lot of open strings. I just don't play like a bass player. There are complaints about me from time to time. It's not like having a bass player; it's like having a deep guitarist.

He also said in 2014 in an interview to the German magazine, Der Spiegel, "I don't like heavy metal!".