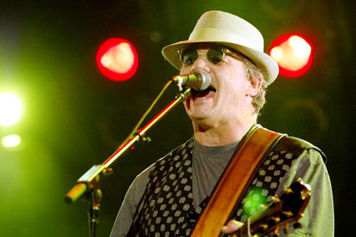 Steve Miller (born October 5, 1943 in Milwaukee, Wisconsin) is an American guitarist and singer/songwriter. Beginning his career in blues and blues rock, Miller's music later changed to a softer, more pop-oriented sound which earned him major success with a string of hit singles and successful albums from the mid-1970s through the early '80s.
Miller was born to Dr. George "Sonny" Miller, a pathologist, jazz enthusiast and amateur recording engineer, and Bertha, a jazz-influenced singer. In 1950, the family moved to Dallas, Texas. His first guitar chords were taught to him when he was five years old by the legendary Les Paul, pioneer of the electric guitar and multi-track recording, as he was also Miller's godfather. Les Paul and his wife, Mary Ford, were regular visitors at the Miller house. In fact, Steve Miller's father was best man at their wedding. Miller still uses some of the techniques taught him at that time.
While at St. Mark's School of Texas, Miller formed his first band, The Marksmen. Miller taught classmate Royce Scaggs some guitar chords so he could join the band; Scaggs became better known by his nickname, Boz. Miller graduated from Woodrow Wilson High School in the Lakewood area of Dallas in 1961. Miller attended the University of Wisconsin-Madison during the 1960s, where he formed The Ardells. Scaggs joined the Ardells the next year. Ben Sidran was added to the Ardells as a keyboardist the following year. Miller was only sixteen when he started college, and dropped out six credit hours shy of a literature degree. Les Paul encouraged young Miller to utilize his prodigious talents, and much of Miller's success has been attributed to Paul's tutelage during his childhood and teenage years.
Prior to forming the Steve Miller Band, Miller was in a band with Barry Goldberg called the Goldberg-Miller Blues Band. They formed in 1965, and released one single, before Miller left the band.
In 1967, Miller formed the Steve Miller Band (at first called "The Steve Miller Blues Band", the word "Blues" later being dropped), with Miller handling vocals, and in 1968 released an album, Children of the Future, the first in a series of discs rooted solidly in the psychedelic blues style that dominated the San Francisco music scene at the time. Sailor, Brave New World, Your Saving Grace and Number 5 followed. These albums performed respectably on the album charts but failed to yield a hit. This first period in Miller's music formed part of double album compilation Anthology, which includes a guest appearance on bass guitar, drums and backing vocals by the then Beatle, Paul McCartney, on the song, "My Dark Hour". Boz Scaggs rejoined Miller for his first two albums before starting his solo career.
1973's The Joker marked the start of the second phase of Miller's career: less hard-rock oriented and simplistic, the album featured a number one hit in the U.S. in the title track as well as several other popular tunes. "The Joker" hit Number One on the UK Singles Chart in September 1990 after it was used on a television commercial.
Miller followed up The Joker with Fly Like an Eagle in 1976 and Book of Dreams in 1977. This pair of albums represented the peak of Miller's commercial career, both reaching the top echelons of the album charts and spawning a lengthy series of hit singles, including "Rock'n Me", "Take the Money and Run", "Jet Airliner" and "Jungle Love". While some critics were disappointed at Miller for abandoning his more ambitious approach and socially-aware lyrics for a more softer rock and derivative blues tunes, [citation needed] fans gravitated towards the catchy, melodic songs in great numbers, and the Steve Miller Band co-headlined a major stadium tour with The Eagles in 1977 (with opening act, Pablo Cruise).
On the heels of this massive success, Miller took a long hiatus from recording and touring, emerging in 1981 with Circle of Love, an ambitious album possibly intended to appease critics of his new style. Sales were disappointing, however, and in 1982 he returned to the pop formula with another hit album, Abracadabra. This was Miller's last great commercial success; a series of collections, live albums and attempts to find a new style appeared sporadically, but after 1993 Miller gave up producing records altogether. However, he collaborated with Paul McCartney on the former Beatle's 1997 Grammy-nominated album, Flaming Pie.
Prior to the start of his 2007 tour it has been revealed that a new studio album titled "The Truth About The Lies" is being recorded. The title track was co-written with Bruce Hornsby. Other song titles are "Oh, It's Just Me Again", and "Short Sleeves, Clip-On Tie (Used Car)".
From Wikipedia, the free encyclopedia