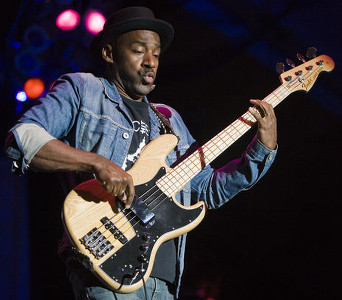 Marcus Miller (born William Henry Marcus Miller, Jr.; June 14, 1959) is an American jazz composer, producer and multi-instrumentalist, best known as a bass guitarist. Throughout his career, Miller worked with trumpeter Miles Davis, pianist Herbie Hancock, singer Luther Vandross, and saxophonist David Sanborn, as well as maintaining a successful solo career. Miller is classically trained as a clarinetist and also plays keyboards, saxophone and guitar.

Miller was born in Brooklyn, New York City, in 1959 and raised in a musical family that includes his father, William Miller (a church organist and choir director) and jazz pianist Wynton Kelly. By 13, Marcus was proficient on clarinet, piano and bass guitar, and already writing songs. Two years later he was working regularly in New York City, eventually playing bass and writing music for jazz flutist Bobbi Humphrey and keyboardist Lonnie Liston Smith. Miller soon became a first call session musician, appearing on over 500 albums by such artists as Michael Jackson, Herbie Hancock, Mariah Carey, Wayne Shorter, McCoy Tyner, Frank Sinatra, George Benson, Dr. John, Aretha Franklin, Elton John, Grover Washington, Jr., Donald Fagen, Bill Withers, Chaka Khan, LL Cool J and Flavio Sala.

Miller spent approximately 15 years performing as a sideman or session musician, observing how band leaders operated. During that time he also did a lot of arranging and producing. He was a member of the Saturday Night Live band 1978-1979. He wrote the intro to Aretha Franklin's 'I Wanna Make It Up To You'. He has played bass on over 500 recordings including those of Luther Vandross, Grover Washington Jr., Roberta Flack, Carly Simon, McCoy Tyner, Bryan Ferry and Billy Idol. He won the "Most Valuable Player" award, (awarded by NARAS to recognize studio musicians) three years in a row and was subsequently awarded "player emeritus" status and retired from eligibility. In the nineties, Miller began to make his own records, putting a band together to take advantage of touring opportunities.

Between 1988 and 1990 he appeared in the first season and again toward the end as both the musical director and also as the house band bass player in the Sunday Night Band during the two seasons of the acclaimed music performance program Sunday Night on NBC late-night television. As a composer, Miller wrote all but two of the songs on Tutu for Miles Davis, including its title track – a piece that defined Davis's career in the late 1980s. He also composed "Chicago Song" for David Sanborn and co-wrote "'Til My Baby Comes Home", "It's Over Now", "For You to Love", and "Power of Love" for Luther Vandross. Miller also wrote "Da Butt", which was featured in Spike Lee's School Daze.

Miller currently has his own band. In 1997 he played bass guitar and bass clarinet in a band called Legends, featuring Eric Clapton (guitars and vocals), Joe Sample (piano), David Sanborn (alto sax) and Steve Gadd (drums). It was an 11-date tour of major jazz festivals in Europe. On Sunday, 25 November 2012, Miller's tour bus crashed in Switzerland, en route to Monte Carlo. The driver was killed, but Miller, ten members of his band, and another driver sustained no life-threatening injuries. In addition to his recording and performance career, Miller has established a parallel career as a film score composer (see listing below), having written numerous scores for films.

Miller has won numerous Grammy Awards as a producer for Miles Davis, Luther Vandross, David Sanborn, Bob James, Chaka Khan and Wayne Shorter. He won a Grammy Award for Best R&B Song in 1992, for Luther Vandross' "Power of Love" and in 2001 he won for Best Contemporary Jazz Album for his seventh solo instrumental album, M2. In 2012 Miller was appointed an UNESCO Artist for Peace supporting and promoting the UNESCO Slave Route Project.

He plays a 1977 Fender Jazz Bass that was modified by Roger Sadowsky with the addition of a Bartolini preamp so he could control his sound in the studio. Fender started to produce a Marcus Miller signature Fender Jazz Bass in four- (Made in Japan) and five-string (made in U.S) versions. Later, Fender moved the production of the 4-string to their Mexico factory and discontinued both 4 and 5-string models in 2015. DR Strings also produced a series of Marcus Miller signature stainless steel strings known as "Fat Beams," which come in a variety of sizes. As of 2015, Dunlop has began producing Marcus Miller Super Bright bass strings which Miller has switched to.