..:: audio-music dot info ::..

Anton Glenn Miller (1904-1944)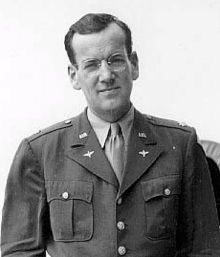 Alton Glenn Miller (March 1, 1904 — presumably December 15, 1944), was an American jazz musician and bandleader in the swing era. He was one of the best-selling recording artists from 1939 to 1942, leading one of the best known "Big Bands". Miller's signature recordings include, "In the Mood", "Tuxedo Junction", "Chattanooga Choo Choo", "Moonlight Serenade", "Little Brown Jug", and "Pennsylvania 6-5000". While traveling to entertain U.S. troops in France during World War II, Miller's plane disappeared in bad weather. His body was never found. Miller's recordings are still familiar refrains, even to generations born decades after Miller disappeared.
Glenn Miller was born in Clarinda, Iowa on March 1, 1904. In 1915, Miller's family moved to Grant City, Missouri where he went to grade school. Around this time, Miller was given his first trombone and then played in the town band. In 1918, the Miller family moved again, this time to Fort Morgan, Colorado where Glenn went to high school. During his senior year, Miller became very interested in a new style of music called "dance band music". Miller enjoyed this music so much that he and some classmates decided to start their own band. By the time Miller graduated from high school in 1921, he had decided he wanted to become a professional musician. In 1923, Miller entered the University of Colorado where he joined Sigma Nu Fraternity, but spent most of his time away from school, attending auditions and playing any gigs he could get, most notably with Boyd Senter's band in Denver. He dropped out of school after failing three out of five classes one semester, and decided to concentrate on making a career as a professional musician. He later studied the Schillinger technique with Joseph Schillinger, who is credited with helping Miller create the "Miller sound", and under whose tutelage he himself composed what became his signature theme, "Moonlight Serenade." In 1926, Miller toured with several groups and landed a good spot in Ben Pollack's group in Los Angeles. During his stint with Pollack, Miller had the opportunity to write several musical arrangements of his own. In 1928, when the band arrived in New York City, he sent for and married his college sweetheart, Helen Burger. He was a member of Red Nichols's orchestra in 1930, and because of Nichols, played in the pit bands of two Broadway shows, Strike Up the Band and Girl Crazy, his bandmates included Benny Goodman and Gene Krupa. The consensus there was that Miller was no more than an average trombonist. Despite this, during the late 1920s and early 1930s, Miller managed to earn a living working as a freelance trombonist in several bands. In November of 1929, an original vocalist named Red McKenzie hired Glenn to play on two records that are now considered to be jazz classics: "Hello Nola" and "One Hour". The session is also historic for its integration of both black and white musicians in the studio. Besides Glenn were clarinetist Pee Wee Russell, guitarist Eddie Condon, drummer Gene Krupa and Coleman Hawkins on tenor saxophone. In the mid-1930s, Miller also worked as a trombonist and arranger in The Dorsey Brothers ill-fated co-led orchestra. In 1935, he assembled an American orchestra for British bandleader Ray Noble, developing the arrangement of lead clarinet over four saxophones that eventually became the sonic keynote of his own big band. Members of the Noble band included future bandleader Claude Thornhill, Bud Freeman and Charlie Spivak. Glenn Miller compiled several musical arrangements before forming his first band in 1937. The band failed to distinguish itself from the many others of the era, and eventually broke up. Benny Goodman said in 1976, "In late 1937, before his band became popular, we were both playing in Dallas. Glenn was pretty dejected and came to see me. He asked, 'What do you do? How do you make it?' I said, 'I don't know, Glenn. You just stay with it'."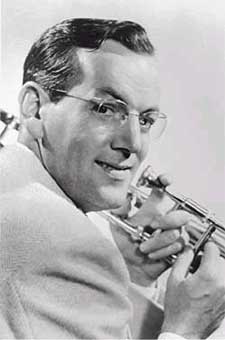 Discouraged, Miller returned to New York. He realized that he needed to develop a unique sound, and decided to make the clarinet play a melodic line with a tenor saxophone on the same note, with three other saxophones harmonized within a single octave. With this new sound combination, the Miller band found success. Miller was not the first to try this style, but he was the most successful at refining it and making it key to almost his entire repertoire. After a shaky start, it made his new band a nationwide hit. Tex Beneke, Al Klink, Chummy MacGregor, Billy May, Johnny Best, Maurice Purtill, Wilbur Schwartz, Clyde Hurley, Ernie Caceres, Ray Anthony, Hal McIntyre, and Bobby Hackett were some of the musicians in the band. Ray Eberle, Marion Hutton, Skip Nelson, Paula Kelly, Dorothy Claire, and The Modernaires were the seven singers. In September 1938, the Miller band began making recordings for the RCA Victor Bluebird Records subsidiary. In the spring of 1939, the band's fortunes improved with a date at the Meadowbrook Ballroom in Cedar Grove, New Jersey, and more dramatically at the Glen Island Casino in New Rochelle, New York. With the Glen Island date, the band began a huge rise in popularity. In 1939, Time magazine noted: "Of the twelve to 24 discs in each of today's 300,000 U.S. jukeboxes, from two to six are usually Glenn Miller's." There were record-breaking recordings such as "Tuxedo Junction", which sold 115,000 copies in the first week. 1939's huge success culminated with the Miller band in concert at Carnegie Hall on October 6, with Paul Whiteman, Benny Goodman, and Fred Waring also the main attractions. From 1939 to 1942, Miller's band was featured three times a week during a broadcast for Chesterfield cigarettes. On February 10, 1942, RCA Victor presented Miller with the first gold record for "Chattanooga Choo-Choo". In 2004, Glenn Miller orchestra bassist Herman "Trigger" Alpert explanied the band's success: "Miller had America's music pulse, he knew what would please the listeners." Although Miller had massive popularity, many jazz critics of the time had their misgivings, believing that the band's endless rehearsals and "letter-perfect playing" diminished excitement and feeling from performances. They also felt that Miller's brand of swing shifted popular music away from the "hot" jazz bands of Benny Goodman and Count Basie towards commercial novelty instrumentals and vocal numbers. Miller was often criticized for being too commercial. His answer to the criticism was, "I don't want a jazz band". Many modern jazz critics still harbor similar antipathy toward Miller. Miller himself emphasized orchestrated arrangements over improvisation, but he did leave a little room for his musicians to ad lib. This would be best exemplified by Tex Beneke, who soloed often on songs like "Sunrise Serenade," and "Falling Leaves". In an article written by Gary Giddins for The New Yorker in 2004, Giddins felt that these early critics erred in denigrating Glenn Miller's music, and that the popular opinion of the time should hold greater sway. The article states: "Miller exuded little warmth on or off the bandstand, but once the band struck up its theme, audiences were done for: throats clutched, eyes softened. Can any other record match "Moonlight Serenade" for its ability to induce a Pavlovian slaver in so many for so long?" Miller and his band appeared in two Hollywood films, 1941's, Sun Valley Serenade and 1942's Orchestra Wives, the latter featuring future television legend Jackie Gleason playing a part as the group's bassist. A stickler for the truth, Miller insisted on a thoroughly believable script before he'd go before Twentieth-Century Fox cameras. Miller also demanded that the band become an integral part of the story and not just be thrown into some inconsequential scene. He had achieved star status and he was now demanding and getting star treatment.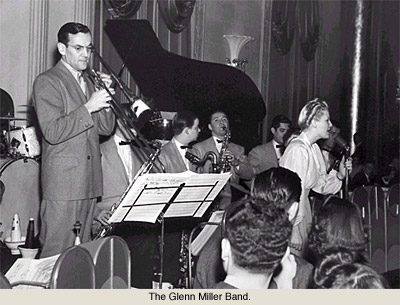 In 1942, at the peak of his civilian career, Miller decided he could better serve those in uniform by joining the war effort. At 38 years old, Miller was too old to be drafted, and first volunteered for the Navy but was told that they didn't need his services. Miller then wrote to the Army's Brigadier General Charles Young on August 12 1942. Miller persuaded the Army to accept him so he could in his own words, "put a little more spring into the feet of our marching men and a little more joy into their hearts and to be placed in charge of a modernized army band." After being accepted in the Army, Glenn's civilian band played their last concert in Passaic, New Jersey on September 27, 1942. He initially formed a large marching band that was to be the core of a network of service orchestras, but his attempts at modernizing military music were met with some resistance from tradition-minded career officers. An example is the arrangement of "St. Louis Blues March", combining blues and jazz with the traditional military march. This was recorded on October 29, 1943 at the Victor studios in New York City. Miller's striking innovations and his adaptations of Sousa marches for the AAF band prompted Time magazine to claim that he had rankled traditionalists in the field of Army music and had desecrated the march king. The magazine also criticized Miller's injection of casual enjoyment into the disciplined cadences of military music, stating that the Army was 'swinging its hips instead of its feet.'" In the end, the soldiers had a positive reaction to the new music and the Army gave tacit approval to the changes. The orchestra was first based at Yale University. From mid-1943 to mid-1944 they made hundreds of live appearances, transcriptions, and "I Sustain the Wings" radio broadcasts for CBS and NBC. Miller felt it was important that the band be as close as possible to the fighting troops. In mid-1944 he had the group transferred to London, where they were renamed the "American Band of the Allied Expeditionary Force". While in the United Kingdom, the band gave more than 800 performances to an estimated one million Allied servicemen. After one of the band's performances, General "Jimmy" Doolittle told a then Captain Miller, "Next to a letter from home, Captain Miller, your organization is the greatest morale builder in the ETO (European Theater of Operations)." By February 1944, the band consisted of thirty musicians. The dance band boasted several members of his civilian orchestra, including chief arranger Jerry Gray, alongside stars from other bands such as: Ray McKinley, Peanuts Hucko, and Mel Powell. Johnny Desmond and The Crew Chiefs were the singers, although recordings were also made with guest stars such as Bing Crosby, Irene Manning, and Dinah Shore. The Dinah Shore recording sessions took place on September 16, 1944, at the EMI studios on Abbey Road (renamed the Abbey Road Studios), and include Shore's version of Stardust. These recordings are of special musical interest as they were some of the final recordings of Miller's career.
On December 15, 1944, Miller, now a major, was scheduled to fly from the United Kingdom to Paris to play for the soldiers who had recently liberated Paris. His plane departed from RAF Twinwood Farm, in Clapham, Bedfordshire, but disappeared over the English Channel and was never found. Miller's disappearance remains a mystery; neither his remains nor the wreckage of his plane (a single-engined Noorduyn Norseman UC-64, USAAF Tail Number 44-70285) were ever recovered from the water. In 1985, British diver Clive Ward discovered a Noorduyn Norseman off the coast of Northern France. His findings were unverifiable and contained no clues as to what happened. The disappearance still remains a mystery. Since the disappearance of Miller over sixty years ago, a number of theories about what happened to bandleader have surfaced. Buddy DeFranco, one of the leaders of the post-war Glenn Miller orchestra, told Glenn Miller biographer George T. Simon of the many supposed truths he was told of Miller's true fate while he was leading the Glenn Miller band in the 1970s. DeFranco stated, "If I were to believe all those stories, there would have been about twelve thousand four hundred and fifty eight people there at the field in England seeing him off on that last flight!". It is now thought that Glenn Miller's plane was accidentally bombed by RAF bombers over The English Channel after an abortive air raid on Germany. The bombers, which were short on fuel, dumped four thousand pounds of bombs in a safe drop zone to lighten the load. The logbooks of Royal Air Force pilot Fred Shaw record that a small single-engined monoplane was seen spiraling out of control, and crashed into the water.

From Wikipedia, the free encyclopedia

The Glenn Miller Story Vol. 1 (RCA Records, 1975)
In the Mood (Bluenite Records, 1995)
The very best of Glenn Miller (BMG Records, 1997)
The Collection (RCA Records, 1999)
The Greatest Hits of Glenn Miller (Sony BMG Europe, 2006)