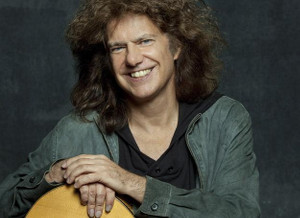 Patrick Bruce "Pat" Metheny (born August 12, 1954) is an American jazz guitarist and composer. He is the leader of the Pat Metheny Group and is also involved in duets, solo works and other side projects. His style incorporates elements of progressive and contemporary jazz, post-bop, latin jazz and jazz fusion. Metheny has three gold albums and 20 Grammy Awards. He is the brother of jazz flugelhornist and journalist Mike Metheny.

Metheny was born and raised in Lee's Summit, Missouri, a suburb southeast of Kansas City. At age 15, he won a Down Beat scholarship to a one-week jazz camp and was taken under the wing of guitarist Attila Zoller. Zoller also invited the young Metheny to New York City to see the likes of Jim Hall and Ron Carter. Following his graduation from Lee's Summit High School, Metheny briefly attended the University of Miami in Coral Gables, Florida in 1972, where he was quickly offered a teaching position. He then moved to Boston to take a teaching assistantship at the Berklee College of Music with jazz vibraphonist Gary Burton. He first made his name as a teenage prodigy under the wing of Burton. In 1974 he made his recording debut on two sessions for pianist Paul Bley and Carol Goss' Improvising Artists label, along with fretless electric bassist Jaco Pastorius.

Metheny entered the wider jazz scene in 1975 when he joined Burton's band, where he played alongside resident jazz guitarist Mick Goodrick. Goodrick was a 1967 alumnus of Berklee, who had held a teaching post there in the early 1970s. The two guitarists were interviewed jointly by Guitar Player Magazine in 1975, bringing them to the attention of fellow guitar aficionados around the world. Metheny's musical momentum carried him rapidly to the point that he had soon written enough material to record his debut album, Bright Size Life, with Pastorius and drummer Bob Moses.

Metheny's next recording, 1977's Watercolors, was the first to feature pianist Lyle Mays, Metheny's most frequent collaborator. The other musicians on this session were Eberhard Weber on upright bass and Danny Gottlieb on drums. Metheny's next album formalized his partnership with Mays and began the Pat Metheny Group, featuring several songs they co-wrote; the album was released as the eponymous Pat Metheny Group on West German musician/producer Manfred Eicher's ECM record label. Metheny also has released solo, trio, quartet and duet recordings with musicians such as Hall, Dave Holland, Roy Haynes, Toninho Horta, Burton, Chick Corea, Pedro Aznar, Pastorius, Charlie Haden, John Scofield, Jack DeJohnette, Herbie Hancock, Bill Stewart, Ornette Coleman, Brad Mehldau, Joni Mitchell, Milton Nascimento, Santana, Dominic Miller, Michael Brecker, Trilok Gurtu and many others.

Metheny has also joined projects such as Song X with Coleman; Parallel Realities, with Jack DeJohnette; Jazz Baltica with Ulf Wakenius and other Nordic jazz players like E.S.T. and Nils Landgren; and he has played with singers from all over the world, such as Silje Nergaard on Tell Me Where You're Going (1990), Bruce Hornsby on Harbor Lights (1993) and Hot House (1995), Noa on Noa (1994), Abbey Lincoln on A Turtle's Dream (1994) and Anna Maria Jopek on Upojenie (2002).

Metheny has been touring for more than 30 years, playing between 120 and 240 concerts a year. He has three children with his wife, Latifa.