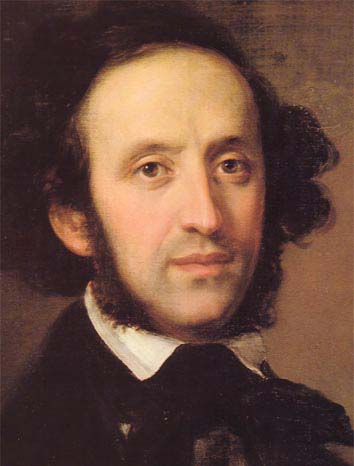 Jakob Ludwig Felix Mendelssohn Bartholdy, born and generally known as Felix Mendelssohn (February 3, 1809 – November 4, 1847) was a German composer and conductor of the early Romantic period. He was born to a notable Jewish family, being the grandson of the philosopher Moses Mendelssohn. His work includes symphonies, concerti, oratorios, piano and chamber music. After a long period of relative denigration due to changing musical tastes and anti-Semitism in the late 19th and early 20th centuries, his creative originality is now being recognized and re-evaluated, and he is now among the most popular composers of the Romantic era.
Mendelssohn was born in Hamburg, the son of a banker, Abraham Mendelssohn (who later changed his surname to Mendelssohn Bartholdy, and who was himself the son of the German-Jewish philosopher Moses Mendelssohn), and of Lea Salomon, a member of the Itzig family and the sister of Jakob Salomon Bartholdy. Felix grew up in an environment of intense intellectual ferment. The greatest minds of Germany were frequent visitors to his family's home in Berlin, including Wilhelm von Humboldt and Alexander von Humboldt. His sister Rebecka married the great German mathematician Lejeune Dirichlet. Abraham sought to renounce the Jewish religion; his children were first brought up without religious education, and were baptised as Lutherans in 1816 (at which time Felix took the additional names Jakob Ludwig). (Abraham and his wife were not themselves baptised until 1822). The name Bartholdy was assumed at the suggestion of Lea's brother, Jakob, who had purchased a property of this name and adopted it as his own surname. Abraham was later to explain this decision in a letter to Felix as a means of showing a decisive break with the traditions of his father Moses: "There can no more be a Christian Mendelssohn than there can be a Jewish Confucius". Although Felix continued to sign his letters as 'Mendelssohn Bartholdy' in obedience to his father's injunctions, he seems not to have objected to the use of 'Mendelssohn' alone.
The family moved to Berlin in 1812. Abraham and Lea Mendelssohn sought to give Felix, his brother Paul, and sisters Fanny and Rebecka, the best education possible. His sister Fanny Mendelssohn (later Fanny Hensel), became a well-known pianist and amateur composer; originally Abraham had thought that she, rather than her brother, might be the more musical. However, at that time, it was not considered proper (by either Abraham or Felix) for a woman to have a career in music, so Fanny remained an amateur musician. Six of her early songs were later published (with her consent) under Felix's name. Mendelssohn is often regarded as the greatest musical child prodigy after Wolfgang Amadeus Mozart. He began taking piano lessons from his mother when he was six, and at seven was tutored by Marie Bigot in Paris. From 1817 he studied composition with Carl Friedrich Zelter in Berlin. He probably made his first public concert appearance at the age of nine, when he participated in a chamber music concert. He was also a prolific composer as a child, and wrote his first published work, a piano quartet, by the time he was thirteen. Zelter introduced Mendelssohn to his friend and correspondent, the elderly Goethe. He later took lessons from the composer and piano virtuoso Ignaz Moscheles who however confessed in his diaries [3] that he had little to teach him. Moscheles became a close colleague and lifelong friend.
Besides music, Mendelssohn's education included art, literature, languages, and philosophy. He was a skilled artist in pencil and watercolour, he could speak (besides his native German) English, Italian, and Latin, and he had an interest in classical literature. As an adolescent, his works were often performed at home with a private orchestra for the associates of his wealthy parents amongst the intellectual elite of Berlin. Mendelssohn wrote 12 string symphonies between the ages of 12 and 14. These works were ignored for over a century, but are now recorded and heard occasionally in concerts. In 1824, still aged only 15, he wrote his first symphony for full orchestra (in C minor, Op. 11). At the age of 16 he wrote his String Octet in E Flat Major, the first work which showed the full power of his genius. The Octet and his overture to Shakespeare's A Midsummer Night's Dream, which he wrote a year later, are the best known of his early works. (He wrote incidental music for the play 16 years later in 1842, including the famous Wedding March.) 1827 saw the premiere—and sole performance in his lifetime—of his opera, Die Hochzeit des Camacho. The failure of this production left him disinclined to venture into the genre again; he later toyed for a while in the 1840s with a libretto by Eugene Scribe based on Shakespeare's The Tempest, but rejected it as unsuitable.
From 1826 to 1829, Mendelssohn studied at the University of Berlin, where he attended lectures on aesthetics by Hegel, on history by Eduard Gans and on geography by Carl Ritter.
In 1829 Mendelssohn paid his first visit to Britain, where Moscheles, already settled in London, introduced him to influential musical circles. He had a great success, conducting his First Symphony and playing in public and private concerts. In the summer he visited Edinburgh and became a friend of the composer John Thomson. On subsequent visits he met with Queen Victoria and her musical husband Prince Albert, both of whom were great admirers of his music. In the course of ten visits to Britain during his life he won a strong following, and the country inspired two of his most famous works, the overture Fingal's Cave (also known as the Hebrides Overture) and the Scottish Symphony (Symphony No. 3). His oratorio Elijah was premiered in Birmingham at the Triennial Music Festival on 26 August 1846.
On the death of Zelter, Mendelssohn had some hopes of becoming the conductor of the Berlin Singakademie with which he had revived Johann Sebastian Bach's St Matthew Passion (see below). However he was defeated for the post by Karl Rungenhagen. This may have been because of Mendelssohn's youth, and fear of possible innovations; it was also suspected by some (and possibly by Mendelssohn himself) to be on account of his Jewish origins.
Nonetheless, in 1835 he was appointed as conductor of the Leipzig Gewandhaus Orchestra. This appointment was extremely important for him; he felt himself to be a German and wished to play a leading part in his country's musical life. In its way it was a redress for his disappointment over the Singakademie appointment. Despite efforts by the king of Prussia to lure him to Berlin, Mendelssohn concentrated on developing the musical life of Leipzig and in 1843 he founded the Leipzig Conservatory, where he successfully persuaded Ignaz Moscheles and Robert Schumann to join him.
Mendelssohn's personal life was conventional. His marriage to Cécile Jeanrenaud in March of 1837 was very happy and the couple had five children: Carl, Marie, Paul, Felix, and Lilli. Mendelssohn was an accomplished painter in watercolours, and his enormous correspondence shows that he could also be a witty writer in German and English—sometimes accompanied by humorous sketches and cartoons in the text.
Mendelssohn suffered from bad health in the final years of his life, probably aggravated by nervous problems and overwork, and he was greatly distressed by the death of his sister Fanny in May 1847. Felix Mendelssohn died later that same year after a series of strokes, on November 4, 1847, in Leipzig. His funeral was held at the Paulinerkirche and he is buried in the Trinity Cemetery in Berlin-Kreuzberg.