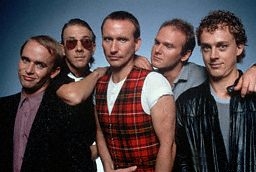 FORMED: 1979, Melbourne, Australia
DISBANDED: 1985
Formed in 1979 by Colin Hay and Ron Strykert as an acoustic duo, with the later joinning of Jerry Speiser playing drums, John Rees playing bass and Greg Ham playing sax, flute and keyboard. They signed with CBS Records and recorded their first single "Who Can It Be" produced by the american Peter McIan, that was sent to the american radio and reached #1. In 1981 they released their first album, Business as Usual, bringing back their hit now named "Who Can It Be Now?", and a new one, "Down Under", which also was a #1 hit, putting Business as Usual as the #1 album in 1982, taking out Michael Jackson's Thriller from the top. At this year the Men toured USA opening the act for Fleetwood Mac.

They received the Grammy© as best new artist in 1983, and release in USA their second album, Cargo, bringing such strong new hits like "Overkill" and "It's a Mistake". They started an world tour, passing through the US' Musical Festival that was transmitted live for all the world. One of their shows was released in the video Live in San Francisco, or Was It Berkeley? in 1984. At this year, the argues started and Jerry Speiser left the band, taking John Rees with him. Colin, Greg and Ron were back in the studio at the Xmas for the recording of their third album, released in 1985 named Two Hearts, now no more produced by McIan, but for Colin and Greg. It had some singles released but didn't get so much attention, still it went gold. After the release of Two Hearts, Greg and Ron also left the band, and Colin toured with another musicians. After the tour Men at Work was over.

In 1987 Colin Hay released his first solo album, named Looking for Jack, still by CBS Records, which had the single "Hold Me" as Top 40 song in USA. Greg Ham was producing soundtracks and acting in gold australian productions, sometimes he were into some Colin concerts to remember Men at Work. Colin Hay also stared some movies, like "Wills & Burke" and "Georgia" with Judy Davis, he also was a guest VJ for MTV.

Colin formed a band named Colin Hay Band in 1988 for touring, it was formed with Gerry Hale, Paul Gadsby and Robert Dillon. In 1990 they released the album Wayfaring Sons, now by MCA Records, which had a #1 hit in Brazil, the song "Into My Life", and this success brought Colin to the world-known Rock in Rio festival at Rio de Janeiro.

Colin went independent and released in 1992 through Trafalgar Records his third solo album, acoustic, named Peaks & Valleys, with the featuring of his sister Carol in some backing vocals. In 1994 Colin created his own musical label, the Lazy Eye Records America Inc., and through it released his forth album, Topanga, with the featuring of musicians from all his career, like Paul Gadsby and Robert Dillon from Colin Hay Band, Chad Fischer from Lazlo Bane, Carol Hay and even Greg Ham from Men at Work.

After so many requests Colin formed Men at Work again with Greg Ham, for a tour in South America. The concerts in Brazil resulted in Men at Work's fourth album, the live Brazil '96, released in 1997 only for South America. At this same year, Colin recorded a new version for "Overkill" with the band Lazlo Bane, which he's a kind of godfather. Colin already has acted in another movies like "Cosi" and "Heaven's Burning". Men at Work was back in studio for the recording of "The Longest Night", a song composed by Greg Ham.

Men at Work was back but Colin didn't stop recording solo, in 1998 he released his fifth album, Transcendental Highway. Sony/Legacy released Men at Work's live album in world wide with the adiction of "The Longest Night" in the new studio version, now the album was just named Brazil.

Colin composed and sung the song "Misty Bay" with his girlfriend, the latin-singer/composer/dancer Cecilia Noel. He also acted in the movie "The Craíc" with Jimeoin, a new acoustic version of "Down Under" is on the soundtrack of this movie.

Colin released a new acoustic album in 2000, named Going Somewhere, bringing the main songs played at his acoustic concerts that were not in Peaks & Valleys.

Men at Work was the closing act for the Ending Cerimonies of Sydneys Olympics, playing "Down Under", after 17 years live for all the world again. Paul Hogan released the movie "Crocodile Dundee in Los Angeles" and there's "Down Under" at the soundtrack, in a new version with the featuring of Cecilia Noël & The Wild Clams. Colin is now in the end production phase of his seventh solo, Men at Work has no preview of any release.