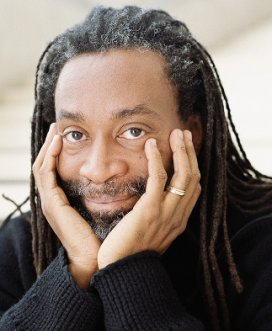 Robert "Bobby" McFerrin Jr. (born Madeley, United Kingdom, on March 11, 1950) is a jazz-influenced a cappella vocal performer and conductor. Born in the UK but raised in New York, he is the son of well-known operatic baritone Robert McFerrin. His song "Don't Worry, Be Happy" (featured in the 1988 movie Cocktail starring Tom Cruise) was a #1 U.S. pop hit in 1988 and won the Grammy for Best Song of the Year. The song is also commonly mistaken for a Bob Marley song, due to lyrics that are very similar to one of Marley's songs, "Three Little Birds". McFerrin has also worked in collaboration with instrumental performers including pianists Chick Corea and Herbie Hancock, and cellist Yo-Yo Ma. He is known for possessing a large vocal range of four octaves and for his ability to use his voice to create sound effects and in vocal percussion, like his recreation of a bass and drums simultaneously, which he achieves by singing while tapping on his chest.
In 1987, he sang the theme tune to The Cosby Show and soon after also provided the music for a Cadburys chocolate commercial. In 1989, he composed and performed the music for the Pixar short film Knick Knack. The rough cut to which McFerrin recorded his vocals had the words "blah blah blah" in place of the end credits. McFerrin spontaneously decided to sing "blah blah blah" as lyrics, and the final version of the short film includes these lyrics during the end credits. In 1993, he also sang Henry Mancini's Pink Panther theme tune for the movie Son of the Pink Panther.
In addition to his vocal performing career, Mr. McFerrin was appointed in 1994 as creative chair of the Saint Paul Chamber Orchestra. He makes regular tours as a guest conductor for symphony orchestras throughout the United States and Canada. In his concert appearances, he combines serious conducting of classical pieces with his own unique vocal improvisations, often with participation from the audience and the orchestra. (For example, his concerts often end with McFerrin conducting the orchestra in an a capella rendition of the "William Tell Overture," in which the orchestra members sing their musical parts (i.e. "ta da dum, ta da dum, ta da dum dum dum") in McFerrin's vocal style, instead of playing their parts on their instruments.) McFerrin also participates in various music education programs, and makes volunteer appearances as a guest music teacher and lecturer at public schools throughout the U.S. McFerrin has a son, Taylor, and father and son have collaborated on various musical ventures. He is at the moment (in June 2007) at the Omega Institute conducting a workshop.
From Wikipedia, the free encyclopedia
Official site: www.bobbymcferrin.com