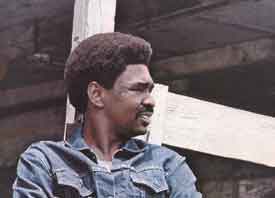 Born the second oldest of nine children on October 19, 1944 in West Palm Beach, Florida, the son of a retired policeman, George McCrae had his first singing experience in church at the age of six. As a teenager he sang with the Roosevelt High School Glee Club and eventually formed his own groups, The Jivin' Jets and The Fabulous Stepbrothers, before joining the U.S. Navy in 1963. While in the Navy he formed a group there too, Atsugi Express. Four years later after his discharge, George met his wife Gwen and after they were married both were signed to Henry Stone's Alston label. They recorded as a duo, but without much success.

Finally, Gwen left the label to sign with Columbia Records (see her own bio on the artists page). "I decided to give up singing and study criminal justice, and concentrate on Gwen's career," George told Billboard. "The important thing at the time was that I had a family, and it just wasn't happening for me in the music business. It wasn't an easy decision. After two years of college, I had to give it one more try. So I went to Steve Alaimo and asked him if he had any material I could record."

Harry Wayne Casey (K.C.) and Richard Finch were struggling novices at Stone's T.K. Records in Hialeah, Florida, when they wrote and produced George's only number one pop hit. Just 13 months later they would record their own number one hit as K.C. & The Sunshine Band. Casey and Finch were still working in their respective warehouse and studio jobs at T.K. when they started fooling around in the studio, writing and producing for themselves and the other T.K. artists, like Betty Wright and Jimmy "Bo" Horne. "We had always done demos for other people," K.C. told interviewer Jon Marlowe. "But one night we went into the studio to cut a whole finished track, but the vocals (were) way too high for me to sing. We already had a record out ("Sound Your Funky Horn"), so we decided to give the song to somebody else."

The track took less than an hour to complete, at a cost estimated by Finch and Casey at around $15.00. "It took us about 45 minutes to get the keyboard, bass and drum track down," Finch told Billboard in 1974. K.C. added, "We used scrap tape and only had to pay Jerome Smith, the guitarist. I did keyboard and Richard was on bass and drums." They took the track to Stone and his A & R chief, Steve Alaimo. "We went down to Henry's office and put the tape on, he and Steve flipped over it and said not to change a thing," K.C. said. They considered two male singers for the track, Horne and McCrae. Their decision was made when McCrae stopped by to speak to Steve and heard the track. In two takes he had completed the vocal track. "Rock Your Baby" entered the Hot 100 on June 1, 1974. Seven weeks later, it provided disco music with a one-two punch by following the Hues Corporation's "Rock The Boat" into the number one position, where it held court for two weeks. The song made George an international star and earned him his first gold record. he second single from the album, "I Get Lifted" only hit number 37 on the Top Forty, but it helped propell the album into worldwide success and cement his role in the disco community. His next release was a duet album with wife Gwen. "Together Again" spawned two lovely dance numbers, "Let's Dance, Dance" and the rap-infested "Winners Together, Losers Apart." Whereas his first album had the distinct "Sunshine Band" sound, this album was more of a vehicle for Gwen and her sultry dance-tinged soul.

Riding high on his new found success, George was whisked off to New York to record his next album, 1976's "Diamond Touch." The name refers to his being produced by Gregg Diamond. Diamond was hot as a pistol at the time having come off of a number one with Andrea True's "More, More, More." It's interesting to listen to George's first 12" single, "Love In Motion," it sounds like a cross between an Andrea True album cut and a Bionic Boogie number. This brought George back to the top of the club charts and was one of T.K.'s earliest 12" singles. His next album was released in 1978. the simply titled "George McCrae" produced his next 12" single (one of my faves!), "Kiss Me (The Way I Like It)." The song shot up the club charts and it's companion 12" single "Let's Dance (People All Over The World" pushed the album into international gold and spawned his first international tour. A third 12" single, although good, was overshadowed by the massive amount of releases that summer, so "(You've Got) My Love, My Life, My Soul" slowly faded away without much fanfare. After his tour he settled into Florida for his next, and last album for the Stone empire. Besides reuniting him with K.C. and Richard it also had the added benefit of backgrounds by Margaret Reynolds who was on the verge of her own success. 1979's "We Did It" spawned his second biggest hit, "Don't You Feel My Love" was released on a single but was going nowhere till it received a Steve Thompson and Michael Arato remix, it shot to the top of the charts and became his most commercially successful 12" ever. With the changing musical lanscape of the early 1980's and with Henry Stone closing up shop, George found himself without a label or a hit. And what happened after 1980? A self imposed semi-retirement. "I wanted just to take it easy, because since 1974 I was on the road. I wanted a break to give me time to get myself together and spend time with my family and everything," admits the talented vocalist.
By 1984, George was back on the music scene with a new sound, from his new album "One Step Closer." The single of the same name reached the number one position on the contemporary charts in Canada and the top 75 charts in England and Holland. The ball started to roll again, in 1987 George re-recorded "Rock Your Baby" and instantly, he was back on the European dance charts. George McCrae's next album, "With All My Heart," was released in July 1991, on the Magnif /Dino label, in Germany. The first single, "Breathless," went top 20 on the dance charts in Europe. In 1994 he did it again with his next CD, "Do Something," the title single went top ten in Belgium, Luxembourg and The Netherlands. George received the coveted "Luxembourg Golden Lion Award For Outstanding Achievement By A Foreign Artist" in Germany, (Frank Sinatra is the only other U.S. Recipient of this award). And now in the new millenium, Georgie boy is back again with the brand new "George McCrae 2000" CD. The first single from this magnificent piece of music is "Absolutely Beautiful" which is released on the President label in the U.K. George McCrae is alive and well, living part time in Aruba, The Netherlands and West Palm Beach, Florida.