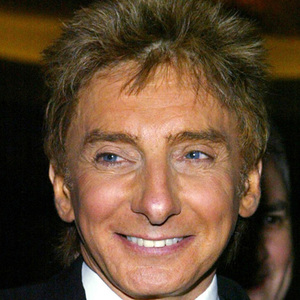 Barry Manilow (born Barry Alan Pincus; June 17, 1943) is an American singer-songwriter and producer. He is best known for such recordings as "Mandy", "Can't Smile Without You", and "Copacabana (At the Copa)". In 1978, five of his albums were on the best-seller charts simultaneously, a feat equalled only by Herb Alpert, The Beatles, Frank Sinatra, Michael Jackson, Bruce Springsteen, and Johnny Mathis. He has recorded a string of Billboard hit singles and multi-platinum albums that have resulted in his being named Radio & Records' No. 1 adult contemporary artist, and winning three straight American Music Awards for favorite pop/rock male artist. Between 1974 and 1983 Manilow had three No. 1 singles and 25 that reached the top 40. Although not a favorite of music critics, several well-known entertainers have praised Manilow, including Sinatra, who was quoted in the 1970s saying, "He's next." In 1988, Bob Dylan stopped Manilow at a party, hugged him and said, "Don't stop what you're doing, man. We're all inspired by you." As well as producing and arranging albums for other artists, including Bette Midler and Dionne Warwick, Manilow has written songs for musicals, films, and commercials. From February 2005 to December 30, 2009, he was the headliner at the Las Vegas Hilton, performing hundreds of shows before ending his relationship with the hotel. Since March 2010, he has headlined at the Paris hotel in Las Vegas. He has sold more than 80 million records worldwide, making him one of the world's best-selling artists of all time. On July 4, 2013, he performed live on the west lawn of the U.S. Capitol as part of A Capitol Fourth on PBS.

Barry Manilow got his foot in the door of the pop music world while working as part of a duo with the then-unknown Bette Midler. Working out of New York City gay bathhouses as her pianist, Manilow soon became her musical director and arranger, co-producing and arranging her Grammy Award-winning debut album and its follow-up. His own debut album, on the other hand, went nowhere, but his second album featured the number one Billboard Pop single, "Mandy," laying the groundwork for his rise to fame throughout the rest of the 1970s. Many more hit songs, including "I Write the Songs," "Looks Like We Made It," "Could It Be Magic" and "Copacabana (At the Copa)," followed, as did Grammy and Tony wins for a Broadway performance.

In the early 1980s, Manilow began to position himself as a modern interpreter of showtunes and pop standards, working with singers Mel Torme and Sarah Vaughan and veteran jazz instrumentalists Gerry Mulligan and Shelly Manne on 1984's 2:00 AM Paradise Cafe. He followed this same path on 1987's Swing Street and 1991's Showstoppers, on which he sang with Michael Crawford and Barbara Cook. One of Manilow's self-described career highlights was scoring music to a collection of unpublished lyrics by Johnny Mercer, the famed lyricist who penned a multitude of pop standards from the 1930s to the 1950s. From pop standards to show tunes, Manilow has captured a devoted audience who continue to maintain his importance to American music and popular culture.

As testament to his musical signifigance, Manilow was inducted into the Songwriters Hall of Fame in June 2002, alongside Sting and Michael Jackson.