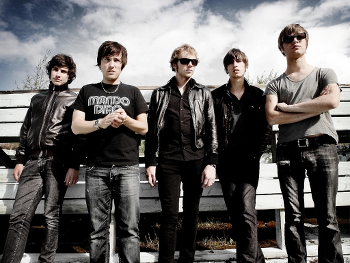 Mando Diao is a rock and pop band from Borlänge, Sweden. The band got their breakthrough with the release of the album Hurricane Bar. Their main fan base is in Sweden, Germany, Austria, Switzerland and Japan. Band members are Gustaf Norén (vocals, guitar), Björn Dixgård (vocals, guitar) and Carl-Johan Fogelklou (bass). Supporting musicians in the studio and at liveacts since 2011 are Daniel Haglund (keyboard) and Patrik Heinkipieti (drums).

The roots of Mando Diao date back to 1999 when Björn Dixgård (vocals, guitar) and Daniel Haglund (keyboard) played in a band called Butler, which they had founded in the middle of the 1990s. In 1996, Gustaf Norén (vocals, guitar), joined the band. In 1999, Carl-Johan Fogelklou (bass, backing vocals) and Samuel Giers (drums) became members and completed the original band. The current line-up decided to take the project more seriously. Björn Dixgård and Gustaf Norén locked themselves up in a summer house and spent 14 months writing songs. They claim the Beatles as their original source of inspiration. Allegedly, Gustaf joined the band after he and Björn had talked all night about this band. The two renamed their band Mando Diao, a name that appeared to Björn Dixgård in a dream in which a man came up to him and shouted "Mando Diao!".

The now-renamed band made their first public performances in the clubs of their hometown Borlänge in 1999. A local writer described them in an article as the best unsigned band he had ever seen. This was soon followed by a record deal with EMI Sweden. After the release of their debut album Bring 'Em In in 2002, the band began touring Sweden and other Scandinavian countries together with local bands as The Hellacopters or Kent.

Daniel Haglund left the band in 2003, due to some minor disputes, and was replaced by Mats Björke.

With every album release, the band's international success increased; in 2007 Mando Diao appeared for the first time as headliner on a music festival, the Live Earth concert in Hamburg.

After the recording of Above And Beyond - MTV unplugged, Samuel Giers left the band in the beginning of 2011. Since September 2011, Mando Diao is supported by Patrik Heikinpieti (drums) and Daniel Haglund (guitar, keyboard).

In 2011, Gustaf Norén and Björn Dixgård began working on poems written by the Swedish poet Gustaf Fröding, and setting them to music. The result, their first album in Swedish, Infruset, was highly rated and appreciated all over Europe even before the official release . On October 28, 2012, the world premiere was broadcast as a live cinema event - Mando Diao live på bio in theaters and cinemas in Sweden, Germany and Switzerland.

Infruset has turned out to be the band´s most successful album in Sweden: it has won a Swedish Grammis award, sold four times platinum in Sweden. Due to their success, the band was awarded with the Swedish Rockbjörnen, a fan award, as best livegroup in 2013. The album has been in Swedish charts for 97 weeks from November 2012 until September 2014 and is the fourth in the list of "best albums o fall times" in Sweden. The single Strövtåg i hembygden has been in the Swedish radio top ten charts for 100 weeks in October 2014.

On October 16, 2014,Love Last Forever, the official song for the ski worldchampionship 2015 in Falun (SWE), by Mando Diao, has been presented to the public. In November 2014 keyboard player Mats Björke left the band.