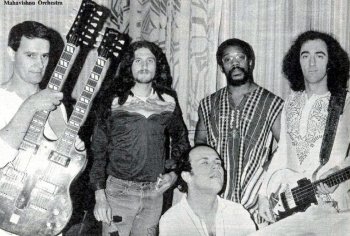 The first Mahavishnu Orchestra

In its first version, the band was led by "Mahavishnu" John McLaughlin on acoustic and electric guitars, with members Billy Cobham on drums, Rick Laird on electric and acoustic bass, Jan Hammer on electric and acoustic piano, and Jerry Goodman on violin. The group is best known for their two most popular albums: The Inner Mounting Flame (1971) and Birds of Fire (1973). This group was considered an important pioneer in the jazz fusion movement, founded by Miles Davis. McLaughlin and Cobham met while performing and recording with Davis. McLaughlin was also influenced in his conception of the band by his studies with Indian guru Sri Chinmoy, who encouraged him to take the name "Mahavishnu." McLaughlin had particular ideas for the instrumentation of the group, in keeping with his highly original concept of genre-blending in composition. He particularly wanted a violinist. As the group evolved, McLaughlin adopted what became his trademark double-neck guitar (six-string and twelve-string), and Hammer added a Moog synthesizer, which enabled him to bend notes, mimicking the phrasing of McLaughlin's guitar. Their musical style was an unprecedented blending of genres: they combined the high-volume electrified rock sound that had been pioneered by Jimi Hendrix, complex rhythms in unusual time signatures that reflected McLaughlin's interest in Indian classical music as well as funk, an improvisational concept that was rooted in jazz as well as Indian music, and some harmonic influence from European classical music. The group's early music was entirely instrumental; their later albums had songs which sometimes featured R&B or even gospel/hymn styled vocals. In the aforementioned two albums, though, the group goes from this intense fusion of upbeat genres (the best example of which is "Noonward Race") to very serene tunes such as "A Lotus On Irish Streams" and "Thousand Island Park", which are pieces for acoustic guitar, piano and violin, or from low-key to extremely busy in a single piece, such as "Open Country Joy."

The split of the original line-up

In 1973 the band encountered a variety of problems. After recording a concert in Central Park, New York (eventually to be released as Between Nothingness and Eternity) tensions started to escalate. In 1973/74 McLaughlin, Cobham, and legendary guitarist Carlos Santana began the Love Devotion Surrender tour. The three played various tracks that would later appear on an (studio) album of the same name, and Billy Cobham's 1973 Spectrum. However, although Cobham was playing at the beginning of the USA tour, he bailed out before the album was cut in the studio. The Mahavishnu Orchestra made a quick stop in London to play a few gigs and record various tracks featured on Between Nothingness and Eternity as well as others. The tracks were cut at the Trident Studios in London,1974, where a dispute arose between band members regarding royalties and the band's material which, up until then, had been entirely credited to McLaughlin. The rest of the band decided that they deserved more money and recognition than they were getting, and the argument resulted in the dissolution of the original Mahavishnu Orchestra. The sessions from London were not released at the time as the rights to the music could not be allocated correctly; not until 1999, when they were released by Sony as The Lost Trident Sessions, did this music become available.
Second Mahavishnu Orchestra

After the first version of the group dissolved, it reformed in 1974 with a new cast of musicians behind McLaughlin: Jean-Luc Ponty (who had performed with Frank Zappa and the Mothers) on violin, Gayle Moran on keyboards, Ralphe Armstrong on bass, and Narada Michael Walden on percussion, amongst others. This "new" Mahavishnu Orchestra (which McLaughlin has reportedly called the "real" Mahavishnu Orchestra) changed personnel slightly between 1974's Apocalypse and Visions of the Emerald Beyond in 1975. The band was then reduced to a four-piece for 1975's Inner Worlds.

Later developments

After the dissolution of this version of the Orchestra, McLaughlin formed another group called Shakti to explore his interest in Indian music; following that, McLaughlin went on to form other bands including The One Truth Band & The Translators, and a guitar trio with Al Di Meola and flamenco guitarist Paco de Lucia. In 1984, McLaughlin reformed the Mahavishnu Orchestra with Bill Evans on saxophones, Jonas Hellborg on bass, Mitchell Forman keyboards, and original member Billy Cobham on drums. Cobham participated in the sessions for their self-titled 1984 album, but was replaced by Danny Gottlieb for live work, and Jim Beard replaced Mitch Forman on keyboards for the latter period of this band's life. This band's overall sound was radically different from the original Mahavishnu Orchestra, in particular because of McLaughlin's extensive use of the Synclavier synthesiser system. McLaughlin then worked with a number of incarnations of The John McLaughlin Guitar Trio all of which featured Trilok Gurtu on percussion, and, at various times, Jeff Berlin, Kai Eckhardt, and Dominique di Piazza on bass. He then formed The Free Spirits, a guitar/organ/drums trio, with Joey de Francesco on Hammond organ and trumpet, and Dennis Chambers on drums, as well as touring and recording again with Al Di Meola and Paco de Lucía. Billy Cobham went on to perform as a solo artist, cutting many albums including Total Eclipse, Crosswinds and Spectrum and toured with the George Duke Band for many years. Jan Hammer went on to collaborate with Jeff Beck together with Narada Michael Walden in Beck's acclaimed album Wired, compose several solo albums and a live album with Jeff Beck and the theme from the hit 80's TV show, Miami Vice.

Mahavishnu Orchestra Band Members
(1970-1973)
John McLaughlin - guitar
Jan Hammer - keyboards
Jerry Goodman - violin
Rick Laird - bass guitar
Billy Cobham - drums

(1974-1975)

John McLaughlin - guitar
Gayle Moran - keyboards, vocals
Jean-Luc Ponty - violin
Ralphe Armstrong - bass guitar
Narada Michael Walden - drums
(1976)
John McLaughlin - guitar
Stu Goldberg - keyboards
Ralphe Armstrong - bass guitar
Narada Michael Walden - drums

(1984)
John McLaughlin - guitar
Mitchel Forman - keyboards
Bill Evans - saxophone
Jonas Hellborg - bass guitar
Billy Cobham - drums

(1985-1986)

John McLaughlin - guitar
Mitchel Forman - keyboards
Bill Evans - saxophone
Jonas Hellborg - bass guitar
Danny Gottlieb - drums
(1986) John McLaughlin - guitar
Jim Beard - keyboards
Bill Evans - saxophone
Jonas Hellborg - bass guitar
Danny Gottlieb - drums

Trivia

The first incarnation of the Orchestra was a thoroughly multinational group:

The British McLaughlin was born in Yorkshire, England;
Cobham was born in Panama;
Hammer hailed from the Czech Republic;
Goodman, an American, was raised in Chicago;
Laird, an Irishman, was born in Dublin.
Jean-Luc Ponty was actually McLaughlin's first choice for violinist, but the idea was stalled by "immigration problems".